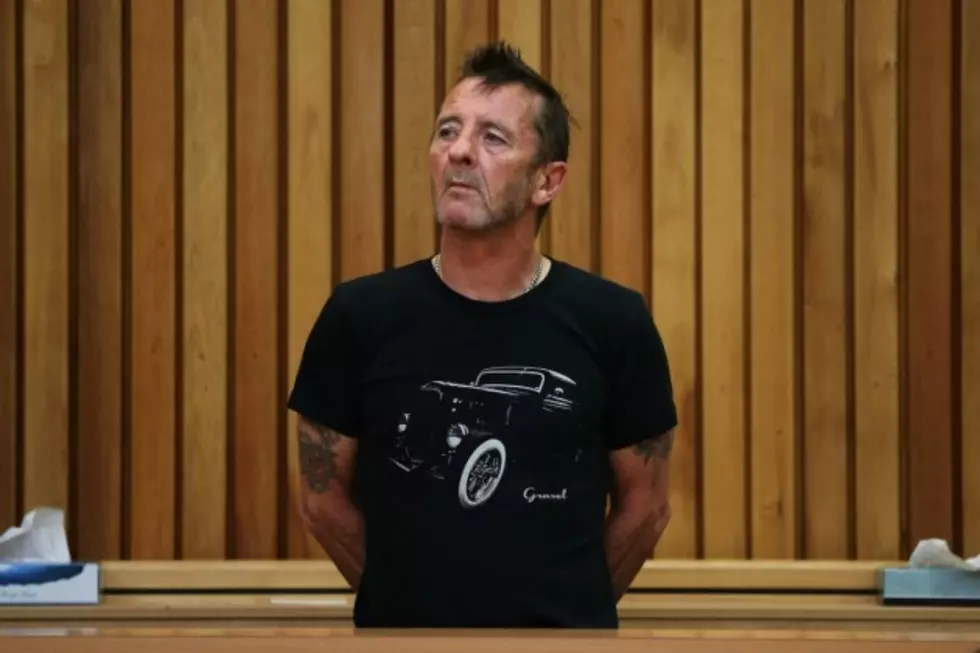 AC/DC Drummer Phil Rudd Arrested Again
Joel Ford, Getty Images
AC/DC drummer Phil Rudd has been arrested again, is currently behind bars and will face a judge in his hometown of Tauranga, New Zealand tomorrow morning.
It is unclear at this point exactly what Rudd has been charged with. "All I can say is he has been arrested and will be appearing on Monday at 10AM in the Tauranga District Court," the drummer's lawyer, Craig Tuck, told Stuff.co.nz. "That's all I can say for now and that's all I am telling everyone who is calling."
Local police also declined to explain the situation, with Bay of Plenty District Communications Manager Kim Perks explaining that Rudd's lawyer "has previously indicated that media attention is not helpful. We are not making any comment until after tomorrow morning's court appearance."
The estranged AC/DC star's latest arrest comes just days after he was sentenced to eight months of home detention after he admitted to threatening to kill an employee and to possessing methamphetamine and cannabis. When that sentence was handed down, the judge warned Rudd that he would go to prison if he violated the terms of his sentence. "I stone cold guarantee that's where you'll end up. I'm not your headmaster, I'm not your father, I'm a judge."
Rudd performed on AC/DC's most recent album, 2014's Rock or Bust, the group's first effort without founding guitarist Malcolm Young. However, due to his legal troubles he has been replaced for the band's current world tour by Chris Slade, who was a member of the legendary Australian outfit between 1989 and 1994.
See the Mug Shots of Mick Jagger and Other Rock Stars
You Think You Know AC/DC?