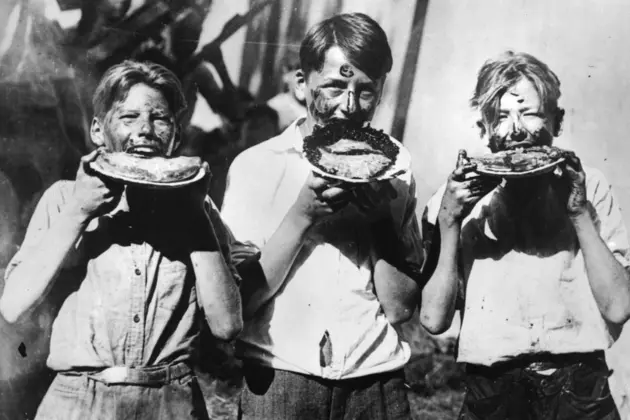 Topical Press Agency, Getty Images
Pie songs are surprisingly easy to find on your local classic rock station, and what better time than Thanksgiving to run down some of our favorite odes to this popular dessert? (Plus, we gotta be honest, there were very few turkey songs out there.) Anyway, if you want to feast like Led Zeppelin, the Beatles or Bob Dylan this holiday season, here's a handy guide to each of their favorite baked goods in the form of our list of the Top 10 Pie Songs:
10

'Wild Honey Pie'

The Beatles

The Fab Four's 1968 self-titled album featured not one, but two pie songs. The wilder and shorter of the pair gets us started here. It was reportedly an off-the-cuff studio experiment done by Paul McCartney while his bandmates were away recording other songs. The lyrics don't leave much room for deep meaning, but sometimes when you're really hungry there's not much more to say, right?

9

OK, let's address some future Facebook comments in advance: No, Warrant isn't really what anybody would call classic rock, but judging from all the thoughtful comments on our stories about the sad passing of frontman Jani Lane, we thought it would be nice to include him. Plus, step outside of any uptight genre rules for a second: We're really gonna do a list of rock songs about pie and not include this one?

7

'Sweet Potato Pie'

James Taylor

Before he turned into the musical equivalent of a neutered Ned Flanders, James Taylor was a more adventurous and critically respected singer-songwriter. Don't forget, he was once signed to the Beatles' Apple record label. There are some slight hints of that rock-influenced spirit on this song from his 1988 Never Die Young album, mostly in the form of some nice (if restrained) electric guitar work.

8

Humble Pie (The Band, Not a Song)

Humble Pie

What's a classic rock pie songs list without one of the more underrated bands in rock history, who Kiss bassist Gene Simmons recently singled out for praise in a radio interview. Even though they don't have a song about pies, we'll get an early start with one of their most popular songs, "Hot N' Nasty," which half-describes how you'd want your dessert to be served.

6

'Slice of Your Pie'

Motley Crue

OK, things get a bit more serious from here on out. Unlike just about everyone else on this list, Motley Crue don't seem to have any particular flavor preferences when it comes to dessert on this track from their 1989 opus Dr. Feelgood. We can't imagine they'd be too concerned if it was served hot or cold, either. The important thing is that it's yours and that they get it as soon as possible.

5

'Flaming Pie'

Paul McCartney

Do you ever get the sense that Paul McCartney could knock out a dozen of these impossibly catchy, pounding piano rockers a day if someone dared him to? Coming hot off the heels of having worked on the Beatles' Anthology project, it seems Paul chose the title of this track (and the 1997 album of the same name) after recalling a joking story John Lennon told a reporter about how the Beatles – with an "a" – got their name.

4

3

Bob Dylan plays it loose and simple on this track from 1969's Nashville Skyline, digging deep into country music, and for this track at least, seemingly abandoning any kind of layered lyrical meanings in favor of crafting a straight-up pie song: "Oh me / Oh my / Love that country pie / Call me for dinner honey, I'll be there!"

2

Another, and more conventional, pie song from the Beatles' White Album. This old-fashioned throwback of a number, complete with added scratchy low-fi sound, finds McCartney as a young romantic wishing his now-famous actress lover to return to his side in the old country. Doesn't seem likely, buddy, but perhaps we can interest you in some pastries?

1

'Custard Pie'

Led Zeppelin

As you've no doubt noticed by now, very few of these "pie songs," with the probable exception of Dylan's, seem to be actually about pie. Obviously, we've sliced into a deep dish of sexual innuendo. Well, that all stops now, as noted "foodies" Led Zeppelin declare their unabashed love of this egg-heavy dish. After all, it's not like they're prone to hiding sexual lyrical content in songs about lemons, cars or candy, right?