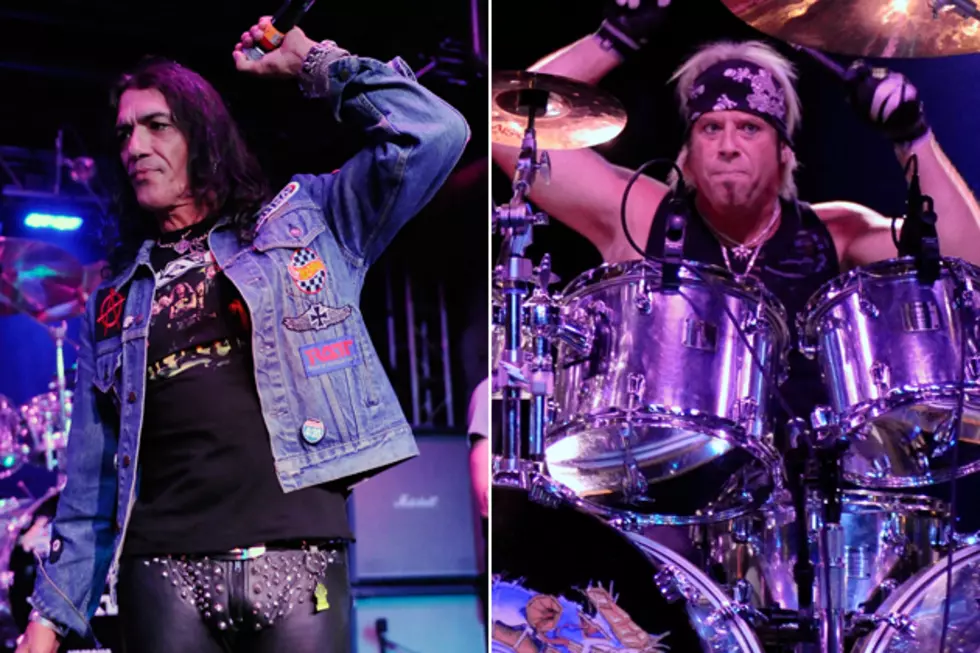 Ratt's Bobby Blotzer: Stephen Pearcy 'Kept Us Hostage For Years'
Ethan Miller, Getty Images
There has certainly been no lack of drama in the Ratt camp in the two weeks since vocalist Stephen Pearcy announced that he was leaving the group. The latest salvo comes courtesy of drummer Bobby Blotzer.
While this is not the first time that Pearcy has acrimoniously parted ways with the band, many accusations have been lobbed back and forth in the past couple of weeks. And at this point, it doesn't appear as though either Pearcy or his former band mates in Ratt are going to be calling a truce anytime soon.
Speaking with Eddie Trunk of the VH1 show 'Trunk Nation' on his Sirius / XM satellite radio show, Blotzer doesn't hold back in his criticism of working with Pearcy's various demands.
"He walks on everything. He's walked four times. Again, this year, he's walked," Blotzer tells Trunk. "He's tortured us. I mean, he's kept us hostage for years. 'I'm quitting. I'm not going.' He's canceled shows, he's canceled tours. He won't get on the airplane unless some money from the tour is fronted up front. He's not paying for any of the bills, although he gets an even cut, penny-for-penny."
Blotzer goes on to say that dealing with Pearcy was never an easy task. While most bands will opt to collaborate during the songwriting process, Blotzer says Pearcy refused to work with his band mates on their 2010 album 'Infestation.'
"I wasn't there when he did his parts," he continued. "But I know that he wasn't in the best shape at that time, so I was pretty worried as to what was coming...'Cause we recorded the music, us four guys, without him being there or anything like that; kind of standard procedure. I mean, we never used to know in Ratt what the songs were gonna be, 'cause Stephen wouldn't come down and sing at rehearsals. We would write music and he would take it and not show anybody what he was writing."
Blotzer does admit that the 'Infestation' album, which featured the minor hit single 'Best of Me,' "turned out great" despite this unusual working method. Will Pearcy have any response to Blotzer's latest insight into his split from the classic band? Stay tuned for more.