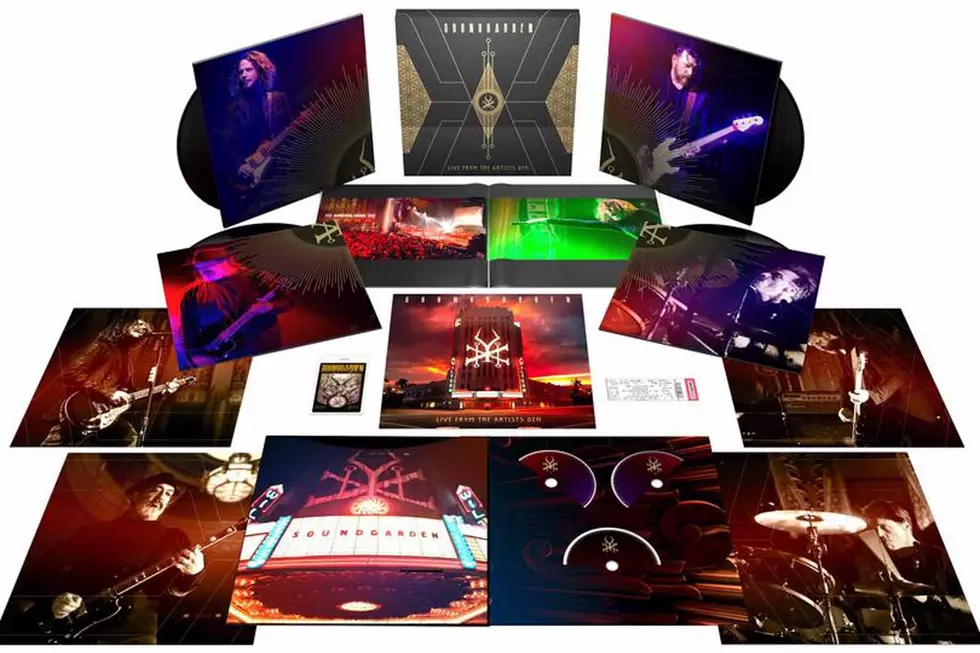 Soundgarden to Release 'Live From the Artists Den'
UMe
Soundgarden's 2013 U.S. tour in support of King Animal ended with a show at the Wiltern in Los Angeles that was filmed for the Live From the Artists Den series. The audio and video from that concert will be released on July 26.
They'll also be promoting the release with special events in Los Angeles, New York and Seattle.
"This live show was really special, and I know how much fun Chris had that night," Vicky Cornell, the widow of singer Chris Cornell, said in a press release. "The idea of giving fans the opportunity to experience it in its entirety is something I'm proud to share with them."
"We were very proud and excited to document the performance of our new material from King Animal and to celebrate with each other and our fans," guitarist Kim Thayil added.
The 29-song set will be available as a Blu-ray, two-CD or four-LP collection, with the Blu-ray adding interviews of all four band members. A limited-edition Super Deluxe Box contains all three formats, a 40-page book of photos, lithos of the band and replicas of the all-access pass and ticket stub.
You can see the track listing and a trailer below.
The Wiltern will also be the site of the video's first public screening on June 17. The press release says the event will "showcase 12 HD camera angles customized for an immersive multi-screen viewing experience," including live remixes of the audio in ultra-high resolution audio and a light show.
The presentation will be repeated the next night at Brooklyn Steel in New York. The film, without the additional features, will be shown on June 23 in Seattle at the Showbox, where Soundgarden reunited in 2010 as the "Nudedragons."
Tickets for all three events go on sale today at 5PM ET at Artists Den's website.
Soundgarden, 'Live from the Artists Den' Track Listing
Disc One
1. "Incessant Mace"
2. "My Wave"
3. "Been Away Too Long"
4. "Worse Dreams"
5. "Jesus Christ Pose"
6. "Flower"
7. "Taree"
8. "Spoonman"
9. "By Crooked Steps"
10. "Blind Dogs"
11. "Rowing"
12. "Non-State Actor"
13. "Drawing Flies"
14. "Hunted Down"
15. "Black Saturday"
16. "Bones of Birds"
17. "Blow Up the Outside World"
Disc Two
1. "Fell on Black Days"
2. "Burden in My Hand"
3. "A Thousand Days Before"
4. "Blood on the Valley Floor"
5. "Rusty Cage"
6. "New Damage"
7. "4th of July"
8. "Outshined"
9. "Black Hole Sun"
10. "Ty Cobb"
11. "Slaves & Bulldozers"
12. "FeedBacchanal"
Soundgarden Albums Ranked