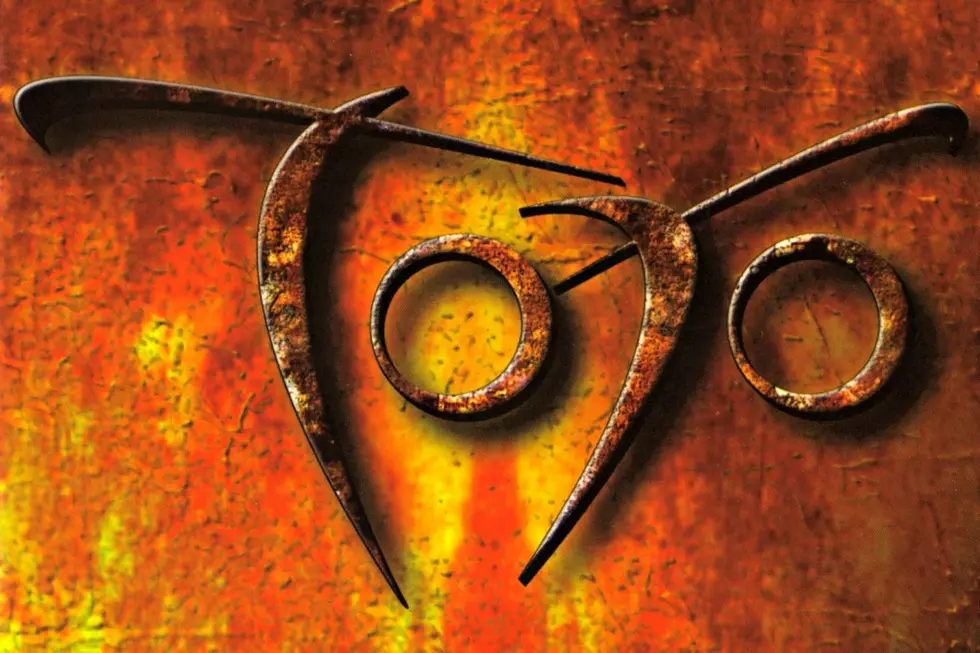 Why Toto Had to Search for a Sound Again on 'Falling in Between'
Frontiers
After recording their first four albums with the same lineup, Toto learned to live with band turnover as a fact of life throughout the '80s and '90s — and as they entered the 21st century, the personnel shuffles kept on coming.
The group's 12th studio album, Falling in Between, arrived on April 14, 2006, and offered fans another variation on the constantly shifting Toto sound. Although the core of the lineup remained essentially the same it had been since original singer Bobby Kimball returned for 1999's Mindfields LP, there were still a number of subtle changes.
The most audible difference was the introduction of keyboardist and singer Greg Phillinganes, a longtime band associate who'd come in to spell Toto co-founder David Paich on the road after Paich curtailed his touring. Instead of making him merely a live sideman, the group simply added Phillinganes to the lineup for Falling in Between. He and Paich were joined by original Toto keyboardist Steve Porcaro, who'd been an off-and-on contributor since giving up full-time membership in the late '80s, leaving Toto with a three-keyboard lineup for much of the album.
While bulking up the synths, Toto's new material still left plenty of room for guitarist and singer Steve Lukather, who'd been the standard-bearer for the original lineup as various members passed through. Starting with the leadoff cut and title track, the band took pains on Falling in Between to reassert its harder-edged rock side — all without sacrificing the pop hooks and complex arrangements they'd always been known for.
"We wanted to make an artistic statement as a whole but still retain what it is that people like about us. We didn't want to make a complete left-turn," Lukather told RockEyez. "We're not a metal band, but we're not a pussy pop band like most people think, either."
Listen Toto Perform 'Falling in Between'
Kimball, speaking to All Access Magazine, added: "You know everyone thinks were a little soft-rock band, but this band can rock with the best of them. We can play classical music, we can play jazz, we can sit in and play with anybody. About two years ago, we played the Tokyo Jazz Festival — we were the only rock band invited by Herbie Hancock, and at the end of the concert, Toto got up and jammed with Herbie. Not many bands can say they did that. We can go and play with AC/DC and be right there in the groove with them, with Lemmy from Motörhead — we can get on stage with anybody. We can play with a punk-rock band, rock bands, doesn't matter."
While straddling the line between rock swagger and pop polish, Falling in Between also found Toto augmenting their sound in a number of other ways. Jethro Tull's Ian Anderson popped up for a flute cameo on "Hooked," they brought in a horn section (including Chicago's James Pankow) for "Dying on My Feet" and former singer Joseph Williams returned to share vocals with Lukather on "Bottom of Your Soul."
Yet even as Toto's sound expanded, time and circumstance conspired to thin the group's ranks. Lukather, Kimball, and drummer Simon Phillips faced a series of difficult tests in the period after Falling in Between's release. That included Paich's retirement from the road and the declining health of bassist Mike Porcaro, who would bow out from touring the following year after being diagnosed with amyotrophic lateral sclerosis, or Lou Gehrig's disease. Out on the road supporting the album, Lukather found himself increasingly unable to think of the band he was leading as Toto.
"We're very proud of that record. We worked really hard to make it happen, and that's the best it was. Then we went out on the road, and Bobby started losing his voice. Dave decided he didn't want to tour anymore. Mike was diagnosed with ALS — his hands had started to go, we thought it was muscular, or a slipped disc or something. Nobody wanted to really address what was going on, until he really couldn't play anymore," Lukather told UCR. "That really dealt us a hard blow. These are my childhood brothers: It chokes me up just thinking about it right now, because Mike is suffering. To carry on again, brother Lee Sklar came out, Greg Phillinganes came out because Dave didn't want to tour – and as I looked around, I was surrounded by friends, but it wasn't the band of brothers that I grew up with. This was me making money on the road."
Listen Toto to Perform 'Bottom of Your Soul'
By the summer of 2008, Lukather decided he'd had enough, and announced he was walking away from (and effectively disbanding) Toto. For a time, it looked as if Falling in Between would be the band's final chapter — and as it turned out, a sense of finality had always hung over the sessions anyway.
"I planned for Falling in Between to be our last album, like Toto's version of Abbey Road," Paich told Jam Magazine. "But you can never say never with Toto."
Paich's words proved prophetic in 2010, when Toto reunited for what were supposed to be a brief series of benefit gigs in support of Mike Porcaro, whose staggering healthcare costs loomed as his condition worsened. (He died in 2015.) With Williams back in the lineup again in place of Kimball, and Paich and Steve Porcaro back on board, Lukather felt the old spark again, and the band soldiered on — eventually returning original bassist David Hungate temporarily to the fold — for a burst of renewed activity that grew to include 2015's Toto XIV album.
Kimball, meanwhile, returned to his solo career — but lest fans feel hurt on his behalf as the odd man out in the reunion, he's publicly insisted that no matter who's in the lineup, it's the songs that remain. Regardless of who's playing them, he said they're part of a history he continues to cherish.
"Toto is Toto, with or without me. They're standards," Kimball later mused. "Number one for picking musicians to go on stage with the band, and their standards for recording and their standards for writing music - all of these things are top-notch and I love that band. I will love 'em forever – and whether I'm there or not, they're my favorite band."
 
 
Ranking Every Toto Album