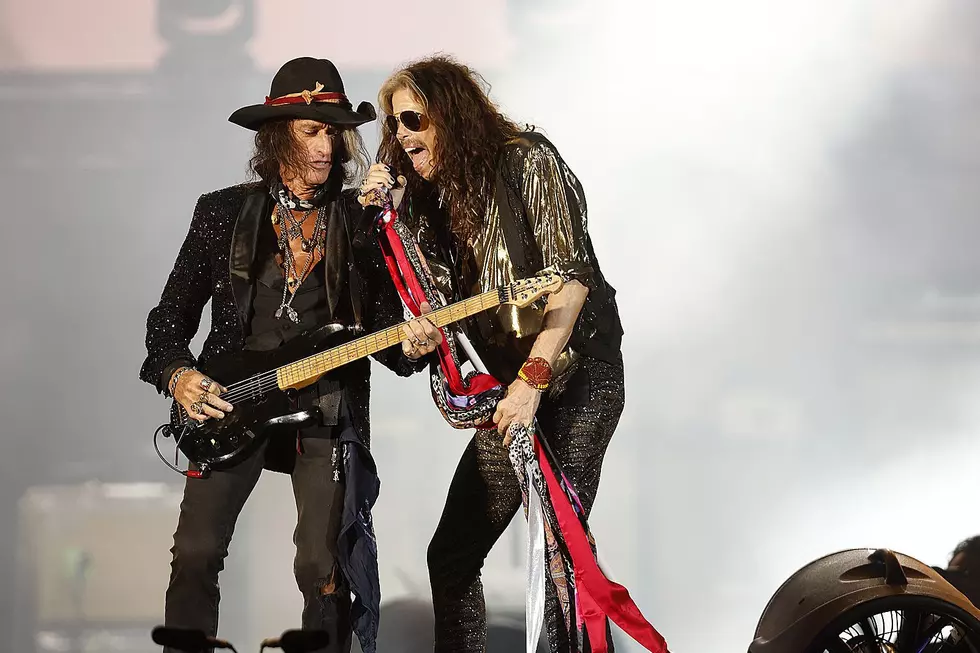 How Can Aerosmith Go Out in Style on Farewell Tour?: Roundtable
Alex Kluft, UCR
Aerosmith's Peace Out farewell tour, which begins on Sept. 2 in Philadelphia, is a big deal for a lot of reasons. Not only does it mark the Boston rockers' final voyage (ostensibly), but it's their first proper road trip since 2017, when they embarked on the head-scratching Aero-Vederci Baby! tour — which certainly sounded like a goodbye trek, but apparently wasn't.
The band's been largely holed up in Las Vegas since 2019 for the Deuces Are Wild residency, so fans are eager for them to get back out on the road. But with that eagerness comes uncertainty. Joey Kramer will once again sit out these shows, ceding his throne to longtime drum technician John Douglas. Aerosmith also postponed several 2022 shows so Steven Tyler could enter rehab.
That's a lot to bounce back from as Aerosmith mounts their first proper tour in six years. Ahead of the Peace Out opening night, UCR's resident Aero-Force One members answer five burning questions.
Aerosmith has a handful of faithful set list openers that they swap in and out. Which song would make the best opener for their farewell tour?
Matt Wardlaw: Surprisingly, it hasn't been very high in the rotation, but they opened their 2003 tour with "Mama Kin," and that's one that would get the crowd sufficiently riled up.
Bryan Rolli: It's been a rough few years for Aerosmith, between their ongoing Joey Kramer drama, Steven Tyler's rehab stint and the sexual assault lawsuit recently launched against him. Plus, some of their Vegas performances were … spotty, to put it politely. Aerosmith has got to be thinking of this tour as a way to etch their legacy in stone and go out on top – and if that's the case, "Let the Music Do the Talking" feels like a pitch-perfect opener.
Matthew Wilkening: They have at least 10 songs that could work perfectly, including "Back in the Saddle," "Let the Music do the Talking" and "Rats in the Cellar." I know it's typically reserved for near the end of the set but the extended bass line opening of "Sweet Emotion" would start a show off in a unique and cool way.
Watch Aerosmith Perform 'Sweet Emotion'
Which songs from their wilderness period – let's say 1977 through 1985 — would you most like to hear?
Wardlaw: Listening back to the catalog, there are definitely a few. "Rock in a Hard Place (Cheshire Cat)" is one. It feels like a spiritual cousin to "Same Old Song and Dance" in spots, and I love Tyler's gravelly yowl on it. "Kings and Queens" from Draw the Line. "No Surprize" from Night in the Ruts. All three of those will be fine — I don't want to get greedy.
Rolli: Excluding the aforementioned "Let the Music Do the Talking," I'd love to hear them dust off some Night in the Ruts tracks like the career-retrospective "No Surprize" or the ass-kicking "Bone to Bone (Coney Island White Fish Boy)." It'd also be cool to hear them break out "Lightning Strikes" for the first time since 1990, especially since Joe Perry just played it on his recent solo tour.
Wilkening: If I was a billionaire I would commission Aerosmith to play Done With Mirrors in full. It's great that we get "Let the Music Do the Talking" a lot, but "Darkness" or "The Hop" would be flat-out amazing. Moving back further in time, "Critical Mass" from Draw the Line would be fantastic.
READ MORE: Underrated Aerosmith: The Most Overlooked Song From Each Album
Any Aerosmith concert is bound to have its fair share of ballads. Which mega-hit ballad would you most like to hear?
Wardlaw: The punishment don't seem to fit the crime (hey, I'm just quoting Mr. Tyler here) when you consider that "Hole in My Soul" has been out of Aerosmith set lists since 1998. I'd love to see that one pop back in. It's in that power ballad territory, but it also has some of Steven's most comical lyrics.
Rolli: I'm a bit of an Aerosmith ballad apologist, so I'd be happy with most of them. "What It Takes" is my top choice, and I fully expect and look forward to "Cryin'," though I'd prefer if they swapped the latter for "Crazy." (Sorry, Wilkening.)
Wilkening: They still owe me "You See Me Crying" from the 2009 tour when they were supposed to play Toys in the Attic in full. I understand why "I Don't Want to Miss a Thing" has become a permanent set list fixture but I'd trade it for 1993's "Cryin'" or even "Angel" in a heartbeat.
Watch Aerosmith Perform 'Cryin''
What's one pseudo-deep cut from their hard-rocking '70s era that you'd like to see back in the mix? How about their late-'80s and '90s comeback phase?
Wardlaw: Two words: "Uncle Salty." It's still such a classic rock radio staple that it's easy to take it for granted. It's one of the gems in their catalog, for sure. Looking at the '80s and '90s, it would be great to hear "My Fist, Your Face" from Done With Mirrors. I'm going to go with an oddball pick for the '90s: "Taste of India," which could have some fun possibilities.
Rolli: Close your eyes and point to any song from their first four albums and I'd be satisfied. I would kill to hear "Nobody's Fault," but I'd settle for other tough cuts like "S.O.S. (Too Bad)" or "Lick and a Promise" (which I was lucky enough to hear in Philadelphia in 2012). Looking at their latter-day catalog, "Young Lust" and "F.I.N.E." are two underrated classics I'd love to see in the mix. And if Perry's going to take lead vocals for a song on this tour, they could revive the Get a Grip scorcher "Walk on Down."
Wilkening: For the most part, Aerosmith already does a great job representing all eras fairly and changing enough songs each tour to keep things fresh. "Home Tonight" from Rocks would be a nice change of pace, but as discussed above they already have a lot of ballads in the set. Permanent Vacation's "Hearts Done Time" would be a welcome '80s-era re-addition to their shows, but considering that something else would have to get pushed aside I can't in good conscience advocate for adding anything more from the '90s.
READ MORE: Top 10 Aerosmith Songs Never Played Live
Finally, what pie-in-the-sky, never-been-played-before song is at the top of your wishlist?
Wardlaw: Draw the Line's "Critical Mass" would be a lot of fun. It's got the right swagger to fit in well and would be an exciting addition along the lines of things they've aired out unexpectedly in the past, like "Combination."
Rolli: I simply cannot think of a more appropriate, beautiful closing song for their farewell tour than "Home Tonight."
Wilkening: I fully admit to a borderline unhealthy hangup with Done With Mirrors, but I'm also not going to pretend that it doesn't exist so my vote is "Shela."
Aerosmith Albums Ranked
Any worst-to-best ranking of
Aerosmith
must deal with two distinct eras: their sleazy '70s work and the slicker, more successful '80s comeback. But which one was better?