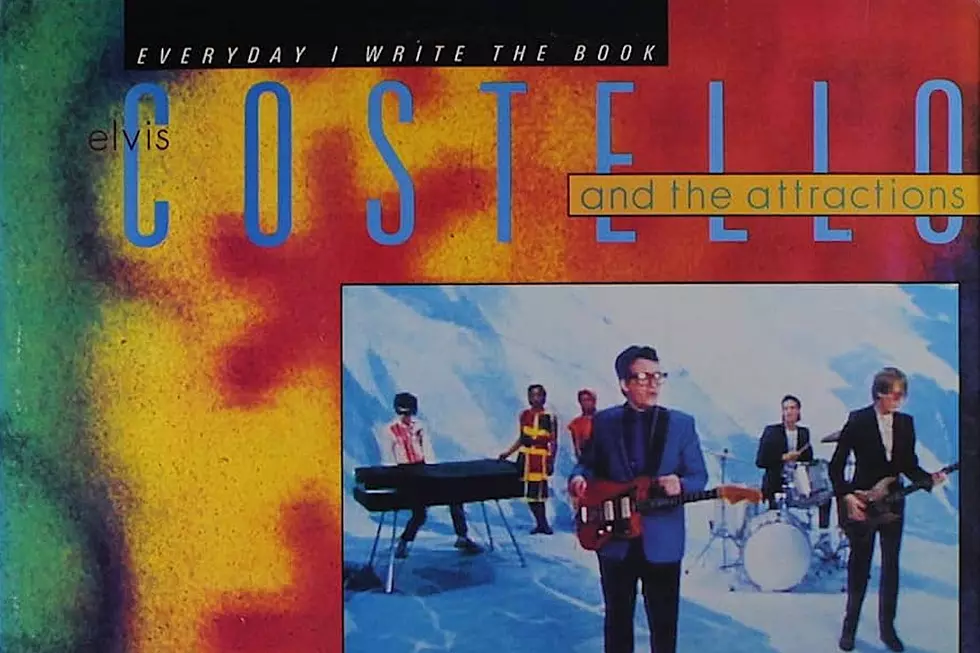 40 Years Ago: Elvis Costello Breaks in America but Hates It
F-Beat
Elvis Costello wanted a hit. That is until he got one.
No one could blame him for worrying. As work got underway on Punch the Clock in early 1983, Costello hadn't cracked the U.K. Top 40 since "Good Year for the Roses" went to No. 6 in 1981, and America was still studiously ignoring his singles. Costello's albums had initially fared better in the U.S.: He reached No. 10 with 1979's Armed Forces and then No. 11 with 1980's Get Happy!!, but had gotten no higher than No. 28 in the years since.
Enter buzzy producers Clive Langer and Alan Winstanley, who were riding high after collaborating on contemporary hits by Madness, Dexys Midnight Runners and others. "I was really excited by the idea that Elvis Costello could make a calculated pop record," Langer said in 2006's Complicated Shadows: The Life and Music of Elvis Costello. "I wasn't very interested in recording the band, you know, as just as a band. I was interested in the whole idea that Elvis could make incredible pop music."
The pairing wasn't as unlikely back then as it may seem today. Costello and Langer had co-written "Shipbuilding" for Soft Machine's Robert Wyatt, who released the single in August 1982. Wyatt's version didn't gain traction until the following May, reaching the U.K. Top 40. By then, Langer and Winstanley had already deeply inserted themselves into Costello's creative process. They handpicked the songs for Punch the Clock and ordered endless retakes.
Elvis Costello's New Sessions Approach
For the first time, the Attractions completed backing tracks before proceeding to overdub sessions. Costello didn't remember using a single live vocal. This approach couldn't have been more different from his straightforward sessions work with Nick Lowe, who'd produced or co-produced Costello's first five albums beginning with 1977's My Aim Is True.
READ MORE: Ranking Every Elvis Costello Album
"Everyday I Write the Book" was transformed. Costello had been road-testing the lead single from Punch the Clock onstage since a fall tour with bassist Bruce Thomas, keyboardist Steve Nieve and drummer Pete Thomas. The song was written on a September night and then performed at the very next show. Back then, they viewed it as "a spoof Merseybeat tune," Costello said in the liner notes for a reissue of Punch the Clock.
Watch Elvis Costello's 'Everyday I Write the Book' Video
It wouldn't be for long. "In rehearsal, Clive guided us towards an arrangement that was unlike anything we had ever recorded," Costello said. The completed single ultimately "borrowed a few touches from the R&B styles of the day," he added, unhappily.
"It was a song I wrote in 10 minutes, almost as a challenge to myself. I thought, maybe I could write just a simple, almost formula song and make it mean something," Costello told interviewer Simon Grigg in 1998. "I was quite happy with it and I tried to do it in a kind of lover's-rock type arrangement, and I wasn't happy with it and then ended up putting this other kind of rhythm to the song."
Elvis Costello Breaks Through in the U.S.
To be clear, Costello wasn't an unwilling participant at the time. ("Elvis would come in and say, 'I'm listening to Marvin Gaye. Can we go in this direction?'" Langer recalled in Complicated Shadows.) He just ultimately thought better of the whole process, describing "Everyday I Write the Book" as a "kind of a hack pop song. It doesn't have any feeling behind it," Costello told Musician magazine in 1986. "It's just an exercise in writing that sort of bad Smokey Robinson song, with all the tricks of the trade."
READ MORE: How Elvis Costello Introduced Himself With 'My Aim Is True'
Despite that, the gambit of working with Langer and Winstanley paid off. Released in August 1983, "Everyday I Write the Book" became a minor hit, even in the U.S. The single reached No. 28 in the U.K. while cracking Billboard's Top 40 chart. "Certainly with 'Everyday I Write the Book,' I invested less emotionally in it than any other songs from that time," Costello told Grigg. "Yet it's the one that everyone warmed to, so you can never tell."
Watch Elvis Costello Perform 'Everyday I Write the Book'
Later, perhaps unsurprisingly, Costello began completely rearranging "Everyday I Write the Book" for concert audiences, trading in plastic R&B for a sense of country-inflected longing. He did so without apology, telling The Telegraph in 2009 that we shouldn't "confuse quality with nostalgia. Certain songs have indisputable quality ... but the records that were the hits were not always the best songs. They were just the ones the labels put out which caught the mood of the time."
Costello would work with Langer again on 1984's regrettable Goodbye Cruel World before moving on. "He was really hot at the time," Costello told Musician. "He'd had these hits with Madness, whom I really liked. They were sort of carrying on the English pop tradition of the Beatles and the Kinks. He'd just done 'Our House' and 'Come On, Eileen.' It didn't occur to me at the time that it wouldn't fit what we did very well."
"Everyday I Write the Book" kept changing, too. Reimagining the song may have confused those who originally purchased the single, but it also provided a new resonance for Costello.
"There have been times when I've rearranged songs and people have been bewildered, and then there have been times when I've done it and people have found it illuminating in some way," Costello told The Telegraph in 2017. "'Every Day I Write the Book' is a good example. In latter years, I've sung it more often the way Ron Sexsmith sang it to me, as a ballad, when I suddenly found something beautiful in it that I enjoyed singing much more than I'd ever enjoyed it before."
Top 40 New Wave Albums
From the B-52's to XTC, Blondie to Talking Heads, a look at the genre's best LPs.