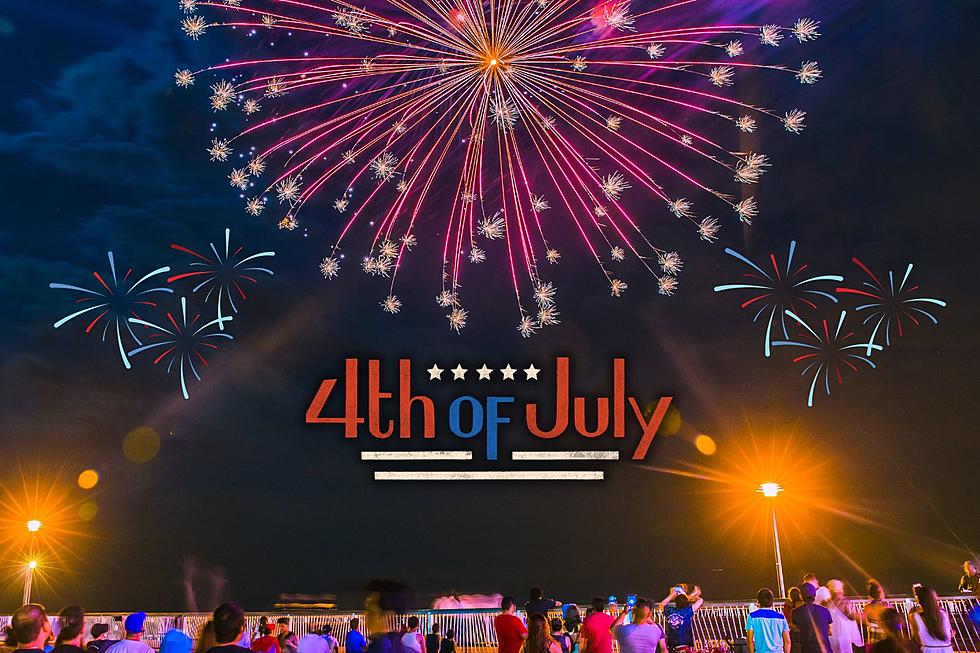 All The Fireworks Shows To Celebrate The 4th In & Around Billings
Credit: Canva
This is our Ultimate Guide To Fireworks Celebrations For 2023. This article is "living", meaning we will be updating it as more come to light. Bookmark this article today!

We're counting down to the 4th of July when anyone and everyone proud to be an AMERICAN will be taking part in a celebration of friends, family, fun, food, and fireworks!
Did we miss anything?
Shoot me an email, or send us an App Chat, and I'll update the article ASAP. Please include as much detail as possible!
Billings
Celebrate Freedom with Fireworks At MetraPark!

Starting at 7 PM at Chiesa Plaza, join Harvest Church & Townsquare Media (Cat Country 102.9 & Mix 97.1) for live music from local R&B favorite, The Brickhouse Band.
High-flying and professional fireworks show, choreographed to music (heard simulcast on Cat Country 102.9 & Mix 97.1) by Pyro F/X.
Pack in your own cooler or enjoy treats from local food trucks and MetraPark concessions
Free Parking & No Gate Admission Fee
Remember to bring your lawn chairs, and be prepared as this event happens rain or shine.
Laurel
Let Freedom Ring 4th of July Celebration

After the day of festivities in Laurel, their fireworks celebration will begin as dark sets over the city.
According to the Laurel Chamber of Commerce, their Fireworks Celebration is the largest in the entire state of Montana
Lockwood
As of now, Lockwood does not have a fireworks show. However, the locals do celebrate, and you'll see the fireworks from anywhere in Billings. They know how to celebrate freedom.
Red Lodge
The Red Lodge 4th of July Fireworks Show

Fireworks are shot off from the East bench and can be seen across Red Lodge. Fireworks start at 10 PM or when it is dark. A VIP Area is available, and you can contact the Red Lodge Chamber for details at 406-446-1718.
Roundup
Roundup Independence Days Extravaganza!

This 4-day celebration of our independence is one you MUST experience! As for Fireworks, they actually celebrate on Sunday, July 2nd with Fireworks by the Roundup Skylighters & Montana Poor Boy Pyrotechnics.
The fireworks show follows the Sawyer Brown Concert, with Lee Moran & Charlie Brandine. Want tickets? Click here.
Hardin
Hardin will be having a fireworks celebration at the Fairgrounds at 10 PM. (If you have more information, email me!)
Forsyth
Forsyth will be having their 4th of July celebration at the Rosebud-Treasure County Fairgrounds starting at dusk.
Livingston
During the Livingston Roundup Rodeo celebration, immediately following the Livingston Roundup Rodeo on July 4th at the Park County Fairgrounds, Fireworks will be shot off after dark.
LIVE STREAM
Don't forget, if you are unable to get out to see a fireworks show, Townsquare Media will be live streaming the 4th of July celebrations once again this year. On the day of the 4th, we will send a push notification out to ALL our apps linking to an article to watch the show live. This will also be available on our Social Media pages.
Check out the stream from last year below. (This year, we will be broadcasting in much higher quality)
What did we miss? Send us details on your 4th of July Fireworks celebration by emailing me, via App Chat, or on Facebook!
5 Montana Towns That Don't Disappoint On The 4th Of July Celebrations
If it seems like it's harder to find genuine 4th of July fireworks displays, rodeos, parades, and celebrations - it's because it is. Several Montana towns, however, keep their Independence Day events on point and will not disappoint.
7 Ways to Celebrate the 4th of July Without Fireworks