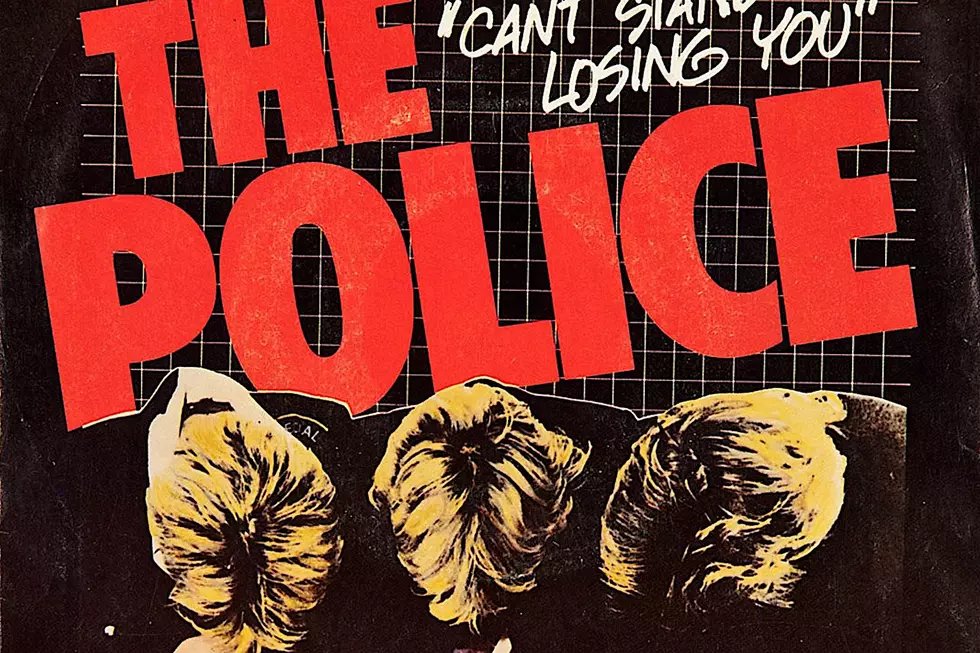 45 Years Ago: The Police Break Out With 'Can't Stand Losing You'
A&M
Blame Sting if the Police's "Can't Stand Losing You" is forever lost in the shadow of "Roxanne." He's spent decades brushing it aside.
"Written in my basement flat in Bayswater in 1978, 'Can't Stand Losing You' is a nasty little revenge fantasy inspired by nothing in particular – apart from the deliberately bratty chords," Sting later told uDiscoverMusic.
Still, they never would have broken through without this single. "Can't Stand Losing You" became the Police's first charting U.K. song, paving the way for a reissue of "Roxanne" that finally attracted wider attention.
"It was a sort of faulty history at the beginning because we released 'Roxanne' and it just went nowhere," Andy Summers told UCR's Allison Rapp. "There was one critic in the New Musical Express, I think, back in those days in England who we got to know. He said, 'This is really a classic and this is the band to watch,' and that was incredibly encouraging to us. You know, like, OK, somebody's getting it. But it wasn't a hit. So you know, we slogged on, hanging by our fingernails."
"Roxanne" and "Can't Stand Losing You" shared a similar musical construction and a similar focus on taboo subject matter. "Roxanne" was voiced by a prostitute's love-struck client, while "Can't Stand Losing You" displayed a surprising flippancy about suicidal ideation. The single's sleeve found Stewart Copeland pretending to hang himself.
"'Can't Stand Losing You' was in the same style as 'Roxanne' – a sparse bass line, four in the bar on the guitar. [It's a] very skeletal arrangement, and again going into a rock 'n' roll chorus with lots of eighths," Sting told The Independent. "It's pretty juvenile, really. And it's a song about a teenage suicide, which is always a bit of a joke."
Watch the Police's 'Can't Stand Losing You' Video
The Police were often placed in the same genre category as punk and even shared a concert bill with Johnny Thunders at the Roxy. The lyrics, which Sting said took all of five minutes to complete, certainly connect "Can't Stand Losing You" with that scene. But the music is something else entirely. "It was obvious we could play our instruments, which wasn't de rigueur," Sting told The Independent.
Really the only thing they shared with punk was a sense of impetuousness and youthful grievance. Sting had spent years being turned down by record labels and more being ignored or openly mocked in the press. The Police's first two singles, "Fall Out" and "Roxanne," had failed to chart. That only stoked his flinty attitude.
"The Police happened at the same time as punk, which I identified with, but not for musical reasons. I had been shut out, too," Sting told The Independent. "But to be marginalized critically is sometimes the best thing that can happen: It can make it tough, [but] if the press haven't made you, it's harder for them to destroy you."
Sting presented the song as a complete idea to the others. "Stewart and I are both knocked out," Andy Summers wrote in his 2006 memoir, One Train Later. "This is good – a real pop song. We work it out, playing it over and over."
Summers was a bit older than the others, but still brought a youthful sense of adventure to the session: "Can't Stand Losing You" would be powered along by a double-rhythm effect created through an Echoplex looping processor. Copeland added a sharp-elbowed reggae beat, and Sting's provocative narrative did the rest.
"As in 'Every Breath You Take' and 'Demolition Man,'" Sting told uDiscoverMusic, "there is something cathartic, even therapeutic, in role-playing these less than savory characters ... or maybe they're actually parts of my own subconscious that would otherwise remain hidden."
Watch the Police Play 'Can't Stand Losing You' in 1980
Unfortunately, after "Roxanne" landed with a thud, the band's bosses at A&M Records took a more heavy-handed approach in the final mastering process of its follow-up single. "The record company thinks that it's a great track, but that it needs remixing – and they know how to do it," Summers wrote in One Train Later. "We were slightly miffed, but there isn't a lot we can do: They are the almighty label, and we need them more than they need us."
Three weeks passed while the Police impatiently waited. Finally, representatives from A&M returned "looking mildly embarrassed, saying that they have tried five different mixes but can't get it better than ours – which is honest at least," Summers added. "From that moment on, A&M never interferes with our recording process again." Finally released on Aug. 14, 1978, "Can't Stand Losing You" quickly drew a ban from the BBC over a cover image that found Copeland "standing on a block of ice with a noose around his neck, waiting for the ice to melt," Sting told Revolver magazine's Vic Garbarini.
Copeland interjected: "Oh, so it was all my fault?" Sting said he'd applauded Stewart for the idea. "The only problem is, you didn't actually go through with it," Sting added with a laugh.
A&M green-lit their now-finished debut album, Outlandos d'Amour, after "Can't Stand Losing You" nearly cracked the U.K. Top 40. "It acts as a guide to the territory that we have been looking for – and almost magically, we seem to change gears and pick up momentum," Summers wrote in One Train Later.
Watch the Police Play 'Can't Standing Losing You' in 2007
They were already in the midst of a low-budget tour of the U.S. when A&M decided to reissue both "Roxanne" and then "Can't Stand Losing You" in 1979. "Roxanne" finally reached the Top 40 in the U.S., while becoming a platinum-selling No. 12 hit in the U.K. Listeners took a second chance on "Can't Stand Losing You" and sent it even higher on the charts, where the single finished at No. 2 in the U.K. behind "I Don't Like Mondays" by the Boomtown Rats.
"Same record, but now the public had awareness of us – and we were highly attractive at that point," Summers told UCR. "And yeah, off we went, and we got big hits with them."
The only issue was a paucity of other new material for concertgoers. "On the first tour, we had a very short set – only about 10 numbers," Sting told Revolver. "The songs only lasted two minutes each and when Stewart was on form, they'd last even less time. So we had about a nine-minute set, right? People would tend to want their money back after that."
The Police played their way out of the problem, employing extended improvisations that might have seemed like indulgences if they weren't so necessary. "Can't Stand Losing You" soon became a lengthy instrumental showcase, and then the source of an entirely new idea.
"We started to do a bit of jamming in the middle of the song, sort of droning away on a D – then it gradually expanded," Summers told Musician magazine's J.D. Considine. "It gradually became a whole other piece of material, which we knew was coming up every night. Eventually, it turned into 'Reggatta de Blanc,' which went on the second album – a very unique piece."
Issued as the title track on the Police's second LP, "Reggatta de Blanc" would earn a Grammy for Best Instrumental Arrangement.
The Hilariously Bad First Concerts of Rock's Biggest Bands
There were long car rides, tiny stages and embarrassing situations on the way to stardom.
Sting's Spouse is One of Rock's Hottest Wives