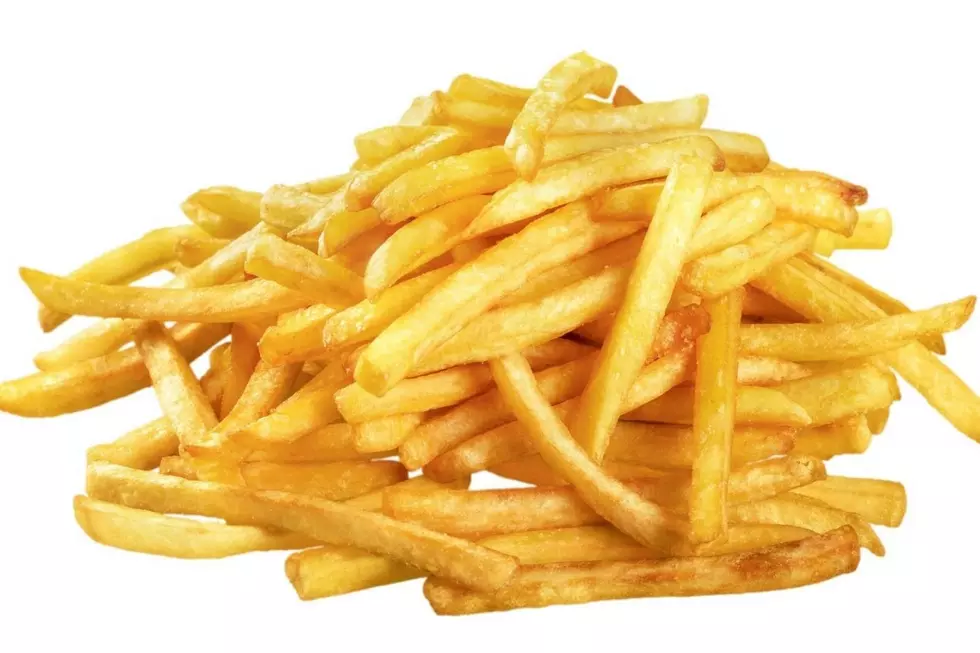 National Potato Day: Ten Places to Find Awesome Fries in Billings
Credit: Getty Stock/ThinkStock
Today (8/19) is National Potato Day. Potatoes are a staple in many of our diets, simply because the potato is so versatile and affordable. You can mash them, bake them (sometimes twice!), make potato salad or fry them into chips or french fries. Don't forget about creamy, cheesy scalloped potatoes or a plate of crisp hash browns. And can you imagine Thanksgiving dinner without a heaping bowl of mashed potatoes and homemade turkey gravy? Yum. Properly seasoned garlic-mashed potatoes or a loaded baked potato are both delicious sides for a steak dinner, but the most common potato item in the world is the french fry.
Crispy, salty and dipped in ketchup (or - gasp - ranch dressing), National Geographic credits Thomas Jefferson for introducing "french fries" to the United States. Some argue that the fry originated in Spain or Belgium, not France. Regardless, Americans love their fries and the Daily Meal claims that we eat about 30 pounds of fries per person, per year. McDonald's is the global leader in fry sales.
So, who's got the best fries in the Billings area? Opinions vary, as some people love a thick, crinkle-cut fry, while others prefer thin, shoe-string style fries topped with seasoning.
Best Loaded Fries - Montana Club. A very informal survey in my office revealed a number of my coworkers LOVE the fries at the Montana Club, specifically their Hoagieville Cheese Fries, served as an appetizer and shareable.
Best Thick Cut Fries - Red Robin. You either enjoy thick cut fries... or you don't. Red Robin is a favorite in the thick cut style, and when you order fries, they're "bottomless" so you can eat your heart out. Wedges and jo-jo's sometimes fall into this category. I'm not a huge fan of thick fries, because they always seem kind of doughy to me.
Best Fresh Cut Fries - Mooyah.  Most bars and restaurants around town get their fries in big frozen bags, and that's okay. They're still good. Some restaurants actually cut up fresh potatoes and one of our favorites are the fresh fries at Mooyah. Five Guys is a close second.
Best Crinkle Cut Fries - Redneck Pizza. Redneck makes great pizza's, but their appetizer menu has a lot of other fun foods too, like fried pickles and fried green beans. They also have really good crinkle cut fries. You get a large portion for $2.50 or you can load them up with their Taco Fries appetizer.
Best Local Drive-Thru Fries - Sandee's and King's Hat. We had to call a tie when it comes to local, non-franchise, drive-thru fried potatoes. Sandee's fries are pretty tasty, and an equal number of locals seem to love the fries (and "gems" or tots) at King's Hat. Don't forget a Bee Bop or a Hot-n-Tot.
Best Fries Downtown - Burger Dive. Award winning burgers deserve delicious french fries and Burger Dive's are quite tasty. If you're interested in trying something a little different, give their sweet potato fries a shot. Some like to dip them in a side of thousand island dressing.
Best Bar Fries - CJ's, Fiddler's Green & Tiny's. This category was too difficult to pick an absolute favorite. After a few beers, pretty much all fries taste delicious. In my informal Facebook survey, Tiny's received a couple of nods and some local foodies I respect mentioned CJ's and Fiddler's Green as other great fry options.
A company called Take Spruce recently analyzed a bunch of Google data to determine the most popular french fry in each state. Not surprisingly, McDonald's was the big winner.
What's up with Wyoming? Taco Bell has french fries? They don't in Montana, other than their limited-edition Nacho Fries (currently unavailable). Take Spruce also analyzed most popular fry styles (curly, waffle, steak, etc.) by region. You can see their full report HERE.

Enter your number to get our free mobile app
."}" data-sheets-userformat="{"2":33554688,"11":4,"28":1}">
Gallery — Every Movie Theater Candy, Ranked: