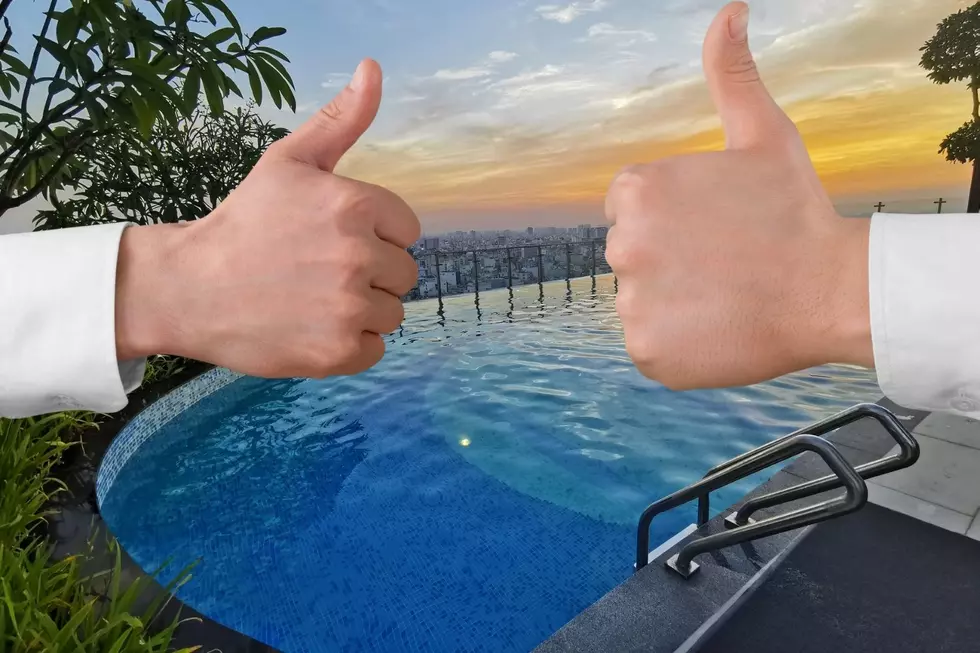 5 Awesome Spots for Epic Rooftop Pools in Billings
Photo by Sua Truong on Unsplash
Have you ever been to a rooftop pool like the ones you'll find at fancy hotels in big cities? Oh my gosh, they're so much fun. The last time I experienced a rooftop pool, it was in Mexico on the 5th floor of this small hotel overlooking the beach. It was pretty awesome.
Outdoor pools in Montana aren't exactly common, and outdoor rooftop pools in Big Sky Country are even rarer. I'm sure there are probably some fancy homes in the Yellowstone Club that feature a rooftop pool, but to the best of my knowledge, the lavish Kimpton Armory Hotel in Bozeman is the only publicly accessible rooftop pool in the state.
This time last year it was hot enough to bake cookies in your car in Billings.
What a difference a year makes. Last July, it was scorching in the Magic City with multiple days hitting triple digits. The NWS Billings actually baked cookies in a car in their West End office parking lot. Smoke from forest fires was filling the air and everything was hot, dry, and dusty. So far we've been blessed with a cooler spring, but you know the heat is coming. That's when we hit the pool.

Billings needs more pools... pools with a view. For adults.
The 406 Kitchen and Taproom Rooftop Pool
The 406 Kitchen and Taproom could lead the charge with my wild idea for rooftop pools. They've already got a fantastic view. Their pool would be a little on the smallish side, as their roof isn't huge, but it would be a good start. Imagine ordering up another tray of drinks, poolside at the 406.
The Hooligans Rooftop Party Pool
The old Montana Power building in the heart of downtown Billings would be an awesome spot for a rooftop party pool. This pool would absolutely be 21+ and would stay open till 2 AM on hot summer nights. They'll probably want to keep the chlorine levels high.
The Petroleum Club would become the Billings Beach Club.
High atop the DoubleTree Hotel would be an obvious choice for a deluxe rooftop pool in Billings. This one could be all-ages, since it's a hotel. Somebody would have to remove our offices on the top floor to really make it work, and I'm okay with that if we can covert our studios into pool-side cabanas.
The Montana Trailhead Inn rooftop pool.
I wrote about signs of life at the former Holiday Inn Grand Montana last year. The hotel is now open, sort of (the tower only). What would surely help bring the property back to its former glory would be an awesome rooftop pool and bar.
The biggest rooftop pool in Billings could go atop the library.
While the view wouldn't be quite as stunning as the 23rd floor of the DoubleTree, this pool could be HUGE and accommodate all ages. Heck, you could make one side a "kids pool" and the other side 18+ for those who want to grab a book and an iced coffee and lay by the pool under a nice umbrella. Wearing stylish oversized sunglasses, of course.
How about a pool that hangs over the Rims?
This would be my most outrageous proposal. It's not a rooftop... but hear me out. A glass-bottom pool that hangs out over the Rims would be EPIC. Come on Billings, let's make this pipe dream happen.
LOOK: Here are the 50 best beach towns in America
Every beach town has its share of pluses and minuses, which got us thinking about what makes a beach town the best one to live in. To find out,
Stacker
consulted
data from WalletHub
, released June 17, 2020, that compares U.S. beach towns. Ratings are based on six categories: affordability, weather, safety, economy, education and health, and quality of life. The cities ranged in population from 10,000 to 150,000, but they had to have at least one local beach listed on TripAdvisor. Read the
full methodology here
. From those rankings, we selected the top 50. Readers who live in California and Florida will be unsurprised to learn that many of towns featured here are in one of those two states.
Keep reading to see if your favorite beach town made the cut.