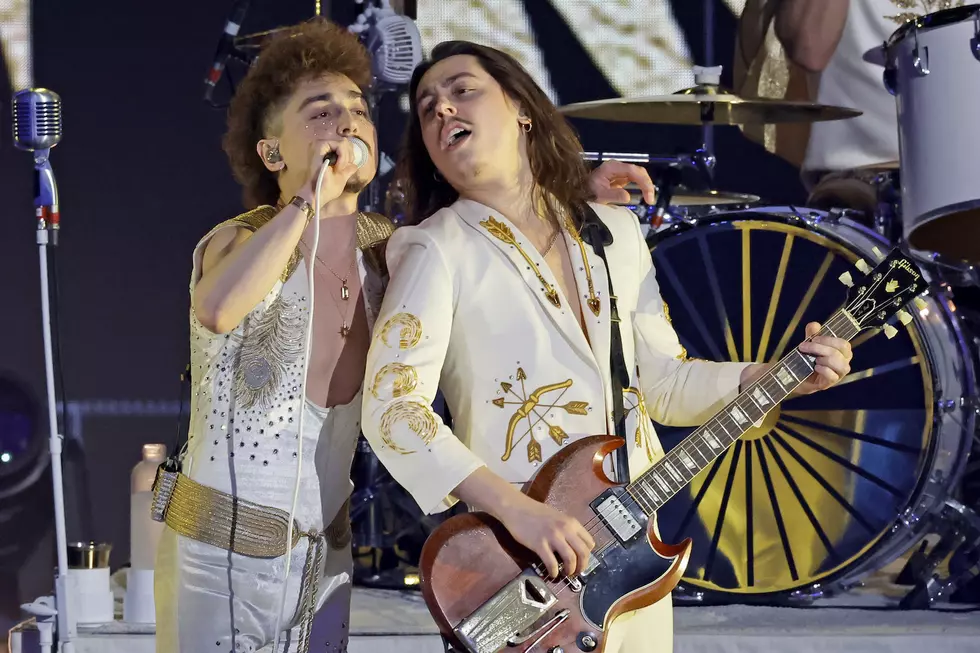 Greta Van Fleet Salutes Their Jumpsuits on 'Sacred the Thread'
Kevin Winter, Getty Images
Greta Van Fleet pays tribute to their distinctive sartorial choices in the new song "Sacred the Thread," the second offering from their upcoming third album Starcatcher.
You can listen to the song below.
"I always like to think that some people's first impression of Greta Van Fleet in concert is, 'Wow, these guys really like dressing to the left and blowing shit up,'" singer Josh Kiszka said in a statement. "This song is particularly important to me because it's about my jumpsuits."
Indeed, the midtempo rocker offers a celestial take on the worldly concepts of sequins, gems and other trimmings. "The sequins tripping on the light, I feel it hugging me so tight," Kiszka sings, adding in the chorus, "I've caught the wind in a kite of dreams / In a flight of seams / Like freedom sewn / And the people roar / And the people saw / Sacred the thread."
"Sacred the Thread" follows Starcatcher lead single "Meeting the Master," which Greta Van Fleet released in early April. The album is due on July 21 and will serve as the follow-up to 2021's The Battle at Garden's Gate. It's available to preorder in vinyl, CD and digital formats now.
"When I imagine the world of Starcatcher, I think of the cosmos," keyboardist Sam Kiszka said in a statement. "It makes me ask a lot of questions, like, 'Where did we come from?' or 'What are we doing here?' But it's also questions like, 'What is this consciousness that we have, and where did it come from?'"
Greta Van Fleet will support Starcatcher with a massive world tour that begins on July 24 in Nashville.
Top 10 2021 Albums From Classic Rock's Next Generation
The torch is being passed.