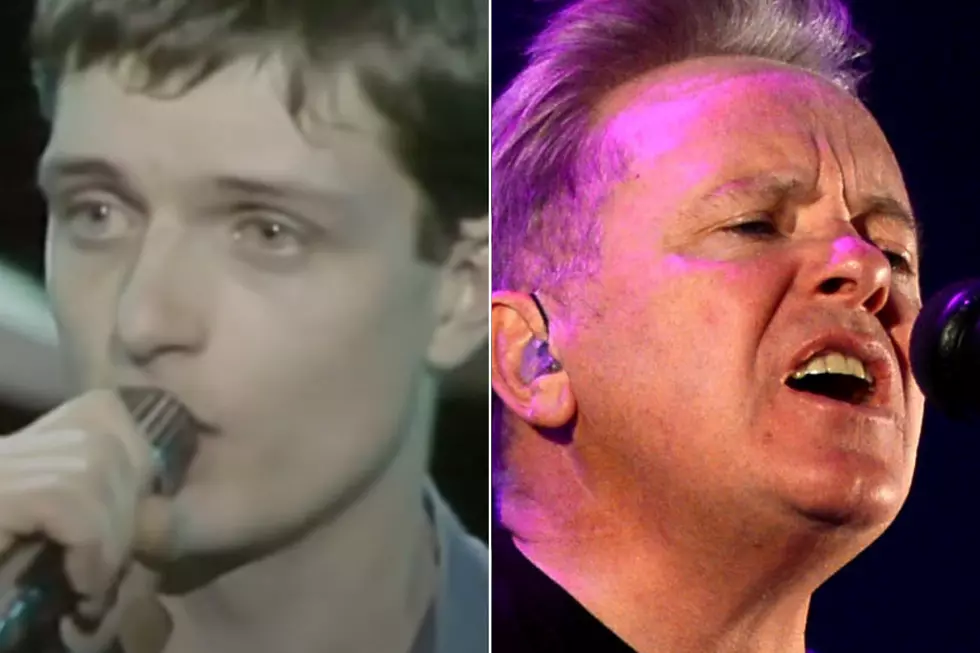 Five Reasons Joy Division/New Order Should Be in the Rock Hall
YouTube / Jason Kempin, Getty Images
Their shared history was formed in a crucible of loss, as singer Ian Curtis' suicide left his former Joy Division bandmates to carry on with New Order.
At first, they were more directly influenced by punk music. Bernard Sumner and Peter Hook decided to start Joy Division after seeing the Sex Pistols. But Curtis, who completed the lineup with drummer Stephen Morris, soon took the group in a far more interesting and melancholic direction.
He struggled mightily with personal problems, but for a time they seemed to gird Curtis' creativity. He was also dealing with epilepsy, however, and the stress of touring was leading to more frequent seizures – sometimes when Joy Division was onstage. Morris' future wife Gillian Gilbert occasionally took over on guitar when Curtis couldn't go on. Then Curtis' marriage began to break apart.
They'd completed a second album, released posthumously as Closer, when Curtis hanged himself in May 1980. Joy Division was scheduled to leave the very next day for what was hoped to be a breakthrough U.S. tour. The sadly appropriate "Love Will Tear Us Apart" shot to No. 13 on the U.K. singles chart a month later, while Closer reached No. 6.
Still, they'd made a pact that Joy Division would end should any individual member leave. Sumner, Hook and Morris decided to move forward, but as a successor band called New Order. In what proved to be a canny move, they officially added Gilbert to complete the new group's lineup.
New Order perhaps inevitably struggled to escape the shadow of tragedy surrounding Curtis' death. But influential trips to New York City and multi-instrumentalist Gilbert's presence on keyboards helped push New Order into fresh, more accessible synth-focused sounds. (Ironically, Joy Division asked to be dropped from an initial contract with RCA when someone suggested they add keyboards to file down some of Curtis' edges.)
Connections remained, like graphic artist Peter Saville. He began working with Joy Division on their debut, 1979's Unknown Pleasures, and continued into the New Order era. But New Order eventually established itself as a separate entity – and a far more commercially successful one. Joy Division never charted in the U.S., while New Order scored a trio of Billboard Top 40 albums – including 1989's Technique and 1993's Republic, both of which went gold. They've also notched eight Top 10 U.K. LPs.
These bands have now been nominated in tandem for induction into the Rock & Roll Hall of Fame. Below we highlight five reasons why Joy Division and New Order should get the nod.
They Displayed Striking Resiliency in the Face of Tragedy
Ian Curtis had expressed excitement about a new album and tour, both of which were expected to take Joy Division to new heights. That made his 1980 death by suicide at just 23 all the more shocking to bereaved bandmates. They dug into what remained: his songs. "Ian's lyrics were great. You were very lucky to have someone who wrote such fantastic lyrics," drummer Stephen Morris told CNN in 2022. "But we thought, 'That's really clever, he's writing about somebody else. It's great how he can get in the mind of another person.' And then after his death, you look at it and think, 'Oh, it was all about him.'" New Order's first single, early 1981's "Ceremony," would be a remake of one of Curtis' last songs – and it echoed his turbulent emotions. They returned to the song again in the fall, creating a noticeably softened re-recording of "Ceremony" after multi-instrumentalist Gillian Gilbert officially joined. Their new direction was set.
Joy Division's Ian Curtis Will Finally Get His Due
His too-early death and New Order's subsequent chart successes tended to obscure the dark genius of Ian Curtis. Then there was Curtis himself, an interior figure whom others struggled to fully understand or describe. He left behind a wife and child, and an incendiary career that had barely gotten underway. Over just two albums, however, he found a way to document the grit and heartbreak of late-'70s England while somehow referencing Franz Kafka (in "Colony"), Nikolai Gogol ("Dead Souls") and William S. Burroughs ("Interzone"). Few knew about his demons, and Curtis' post-punk persona tended to obscure it all anyway. "Who cared what he was saying as long as he said it like that?" bassist Peter Hook later admitted. "All I really heard was a scream." A Hall of Fame induction would deliver Curtis from perpetual cult-hero status, while offering new generations a chance to hear it, too.
They're Foundational in Post-Punk and Then New Wave
Joy Division's hometown, with its rusting factories and fetid air, served as a cheerlessly fitting locale for the birth of a post-punk legend. The band "sounded like Manchester: cold, sparse and at times, bleak," Bernard Sumner said in his autobiography. New Order rose from Joy Division's ashes, fusing their flinty early sound with electronic influences from visits to New York City. The result was something like Kraftwerk meets Giorgio Moroder, and New Order ended up sending more than a dozen songs into the Top 10 on the Billboard dance chart. Curtis' death changed all of them, in ways large and small. But New Order didn't talk much about it. Instead, they dove into making synth-driven music that celebrated life and love and dancing – and, it must be said, forgetting. It would be many years before New Order played any Joy Division songs.
New Order's Lineup Has a Groundbreaking Secret Weapon
New Order was initially defined by who wasn't there. ("Ian Curtis' shoes were very big shoes to fill," Hook told Euronews in 2019.) They'd eventually be defined in part by who was: Gillian Gilbert, former guitarist with the Inadequates, a punk band that rehearsed in the same Manchester-era warehouse as Joy Division. She'd be intimately involved with all of New Order's albums, save for 2005's Waiting for the Siren's Call, while embracing new technology that transformed their musical outlook. She could play with sequencer-like precision, a key thing in the early days, while also remaining open to happy accidents. When she missed a note while inputting the melody for "Blue Monday," for instance, it fell out of sync with the rhythm. That completed the song. That's her bass line on "Love Vigilantes," too. She was absent for a while in the '00s, and the difference was striking. "The band went too rock 'n' roll during Waiting for the Siren's Call," Gilbert correctly diagnosed. "But I think they got it out of their system. They were sounding like a traditional band."
Ceremony Provides a Long-Awaited Chance for Reconciliation
The fission between Bernard Sumner and Peter Hook initially provided a musical spark for Joy Division and New Order before it broke them in two. "We banged heads all the time and always have done ever since we started out," Hook told Billboard in 2014. "That's what always made our music so exciting and intense." New Order went on hiatus in 1993 and then again in 2007. When they reformed in 2011, however, Gilbert was back, but Hook was not. He sued his former bandmates a few years later after they formed a new company to administer royalties for their subsequent work together with later-era guitarist Phil Cunningham and bassist Tom Chapman. New Order has since released 2015's Music Complete, while Hook has toured both of Joy Division's albums with his band the Light. It wasn't immediately clear after their nomination if the two camps would reunite for Joy Division/New Order's potential induction into the Rock Hall.
137 Artists Not in the Rock and Roll Hall of Fame
Many have shared their thoughts on possible induction.