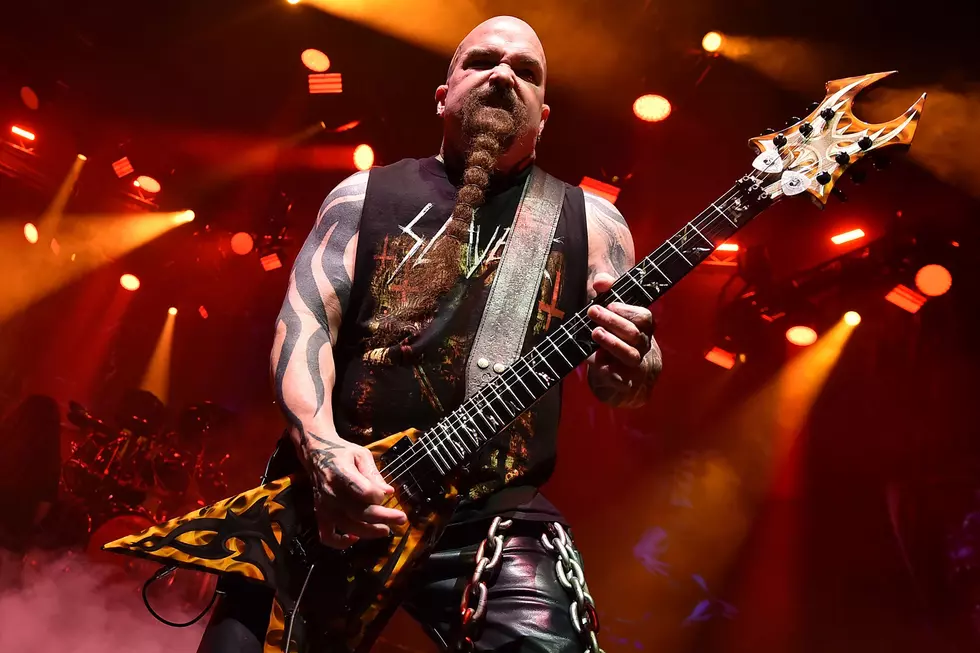 Slayer Too 'Terrifying' to Sponsor NASCAR Car
Theo Wargo, Getty Images
Slayer's plans to sponsor a NASCAR car for a race this weekend were canceled at short notice, with the band saying they remained too "terrifying" for some people.
The thrash icons had revealed a preview of how car number 54 would look at the Bristol Motor Speedway in Tennessee, driven by J.J. Yeley and run by Rick Ware Racing.
"NASCAR racing and Slayer have a lot in common," guitarist Kerry King had said at the time. "Both are extremely fast, intense and aggressive. I can think of nothing more rad than seeing the Slayer logo on Rick's car with J.J. behind the wheel. I'm sure disciples of everyone involved will be completely stoked on the bond between these two fierce entities!"
However, a new statement revealed that the car would not carry the band logo and that of its label, Nuclear Blast, and would instead be sponsored by an "incontrovertible" removal firm. "Today, reportedly due to reactionary concerns from other long-time participating sponsors, Slayer has been pulled as the primary sponsor, and all Slayer signage has been removed from the car that was to be piloted by Monster Energy NASCAR Cup Series veteran, J.J. Yeley," Slayer said in a statement. "After nearly 40 years, Slayer apparently remains as terrifying to some as ever."
After polling fans, driver Yeley had settled on Slayer track "Raining Blood" as his introduction music for the race. The band recently released their last-ever live dates in a run titled The Final Campaign, the last leg before their retirement.
Top 50 Classic Heavy Metal Albums