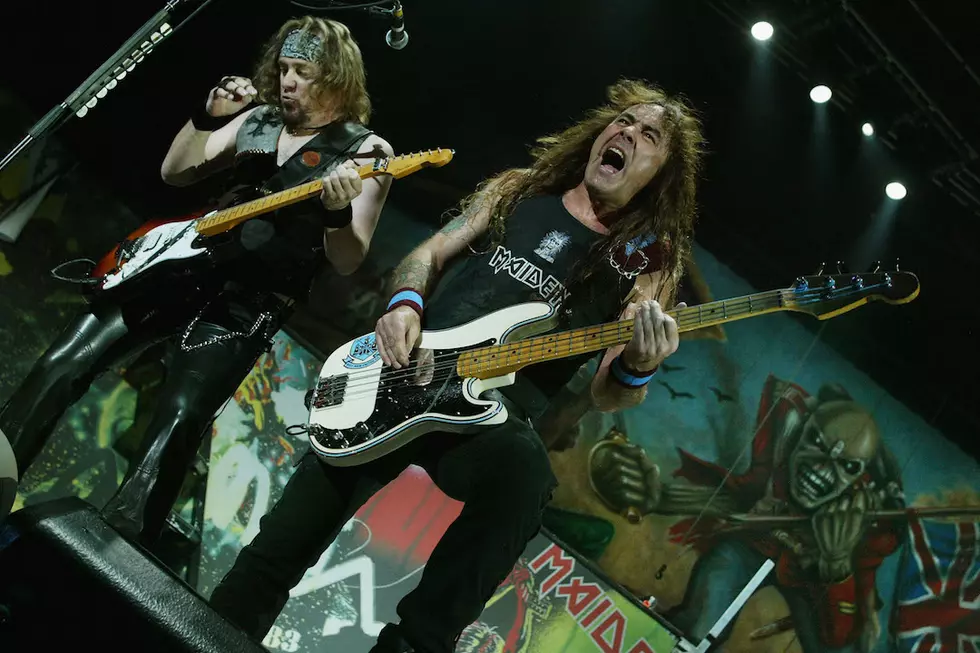 Steve Harris: Remember Iron Maiden as a 'Bloody Good Live Band'
Karl Walter, Getty Images
Steve Harris said he'd like Iron Maiden to be remembered as a "bloody good live band" once they're gone, and enthused about the energy of playing onstage.
Discussing their theme song "Iron Maiden," which appeared on the demo, Harris told Rolling Stone that "we were just going to go out there and go for it and take no prisoners. We obviously were young and hungry and we had the adrenaline. We were just trying to get out there and play fast, heavy music with lots of melody."
He added that "there wasn't really anybody playing the stuff we were playing. We were heavily influence by people like Wishbone Ash with the very melodic guitars. But we had a fire in it."
Harris refuted the suggestion that early Iron Maiden material contained influences from the punk movement of the time. "Some people mistook us for playing punky stuff, but we actually didn't like punks at all," he explained. "The punks back then couldn't really play their instruments like the later ones."
Asked about the high average speed of their songs, Harris cited the adrenaline of live performance as a catalyst. "It's not like we said down and said, 'Oh, we're going to play fast,'" he said. "You start with the adrenaline and get onstage  and it was even faster than it was when you recorded ti. Sometimes it can get a bit out of hand, but the energy at a gig can be really quite amazing at times. It was never premeditated."
Harris recently said he didn't think Iron Maiden deserved their Grammy for the 2010 song "El Dorado," and several members of the band have discussed their lack of interest in the Rock and Roll Hall of Fame, for which they've been eligible since 2004.
"I don't mind that we're not in things like that," Harris said in the new interview. "I don't think about things like that. It's very nice if people give you awards or accolades, but we didn't get into the business for that sort of thing. I'm certainly not going to lose sleep if we don't get any sort of award, not just that one, any award. … With what we do, whatever comes of it is great. Whatever doesn't come of it is great too."
See Iron Maiden Among Rock's Most Underrated Albums