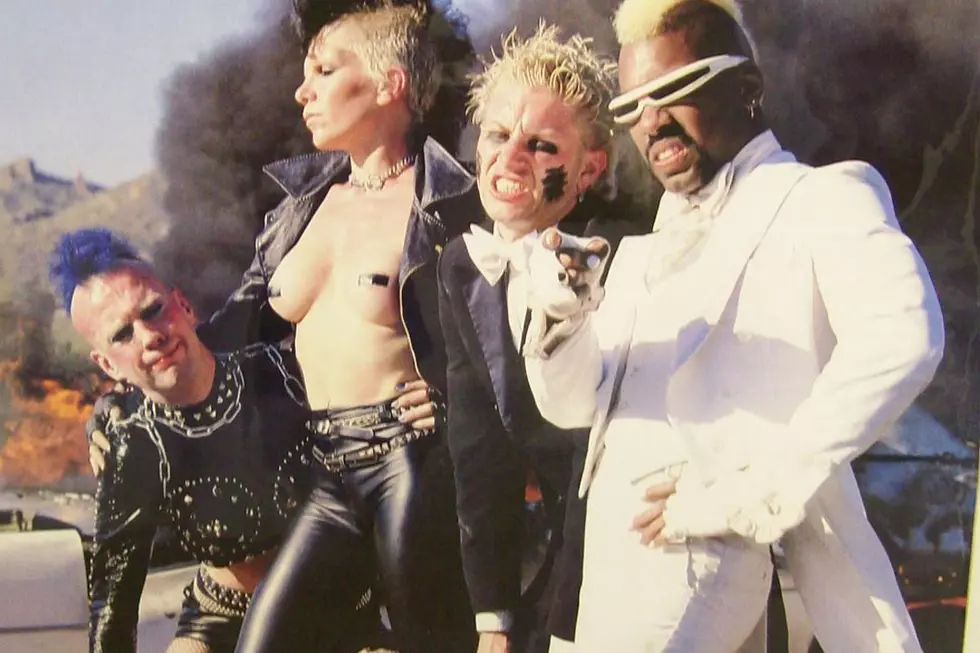 40 Years Ago: Wendy O. Williams Arrested For Obscenity
Stiff Records
Lady Gaga? Miley Cyrus? Madonna? They ain't got nothin' on the late, great Wendy O. Williams. With her band, the Plasmatics, Williams took rock theater, spectacle and absurdity to new levels. In the process, she found herself battling the law on more than one occasion. The battle well and truly began on Jan. 18, 1981.
That night, following a concert at the Palms Night Club in Milwaukee, Williams was arrested for "lewd and lascivious" behavior during the Plasmatics performance. That behavior included "simulating masturbation and oral sex." With a sledgehammer.
Such envelope-pushing theatrics were routine at Plasmatics shows, which featured anything from sawing a guitar in half or demolishing a television with said sledgehammer, during which, Williams would have her way with it. In addition, she would often appear onstage wearing only shaving cream to cover her breasts or electrical tape to cover her nipples.
The arrest in Milwaukee had turned violent with both Williams and her manager, Rod Swenson, being beaten by the police. Additional charges were brought against Swenson for initiating the scuffle. The case went to trial in June 1981. A photographer captured the incident, and those photos, along with eyewitness testimony from several concertgoers, were used in their defense. After deliberating for just three-and-a-half hours, Swenson was found not guilty. Having lost the case against Swenson, the prosecutor dropped all charges against Williams as well.
Williams and the Plasmatics were in the national spotlight throughout 1981. Infamous appearances on both Fridays (in January) and Tomorrow with Tom Snyder (in April) brought them into American living rooms. An exceptionally odd appearance in November took place on Solid Gold, where the band were introduced by Andy Gibb and Marilyn McCoo. Following the performance, Williams was interviewed by the puppet "Madame" of Waylon and Madame fame.
Along the way the band made friends with many classic rockers. Neal Smith, drummer for the original Alice Cooper Group, played drums on their 1981 album Beyond the Valley of 1984. The band would splinter, but Williams kept rolling,working with, among others, Motorhead's Lemmy, with whom she recorded a duet in 1982 -- a cover of the Tammy Wynette classic "Stand by Your Man." Gene Simmons of Kiss wound up producing her 1984 solo album WOW, for which she was nominated for a Grammy in the Best Female Rock Vocal Performance category.
Sadly, Williams took her own life in 1998. She was just 49 years old.
See the Top 100 Albums of the '80s