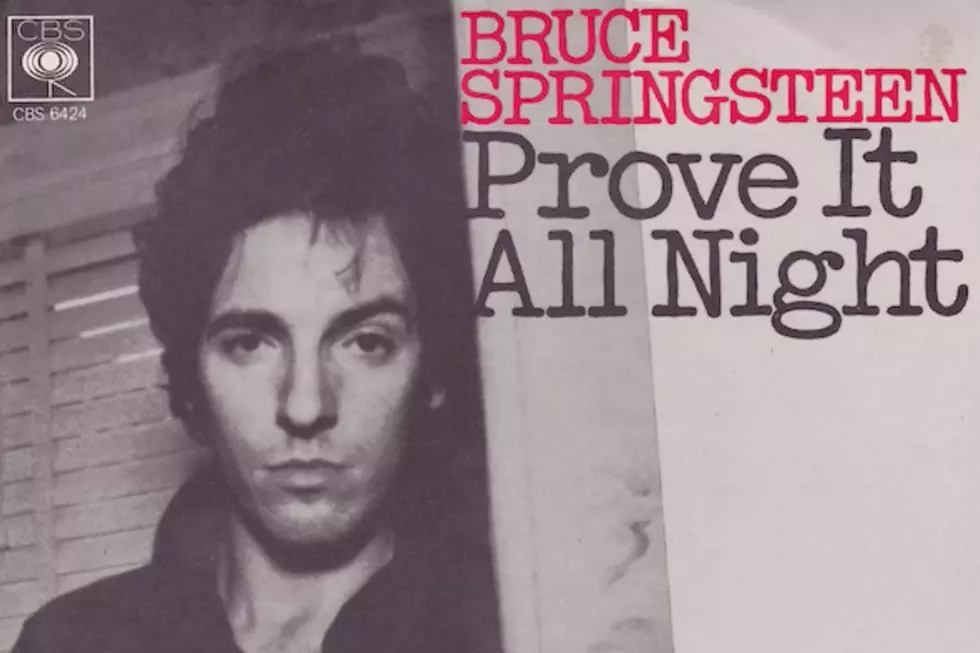 How Bruce Springsteen's 'Prove It All Night' Was Reborn Onstage
CBS
The first single from Bruce Springsteen's Darkness on the Edge of Town became a tale of two versions shortly after its release.
"Prove It All Night," which preceded his fourth LP by 10 days in May 1978, was a straightforward, four-minute rock anthem in its studio form dubbed by Rolling Stone as "the lightest item" on Darkness. It reached No. 33 on the Billboard Hot 100 chart, becoming only Springsteen's second Top 40 single but 10 points lower than "Born to Run" three years earlier.
When Springsteen and the E Street Band hit the road to support Darkness on the Edge of Town, however, "Prove it All Night" turned into an epic that could run from seven to nearly 12 minutes, with a lengthy, improvised solo by Springsteen on guitar and Roy Bittan on a piano that would build in intensity before crashing into the song proper.
"When the introduction gives way to the melody of the song, 'Prove It' is transformed from something potentially slight and dismissible into an emotional crucible," admirer Dave Marsh wrote in Rolling Stone. "Hearing it, you may wonder if 'Prove It All Night' is a hit single, but you know it's a great song."
Listen to Bruce Springsteen's 'Prove It All Night'
According to Springsteen, the song began in the back of a New York City cab, with help from a particularly loquacious driver. "I only knew this guy was about 45 years old and he was just raving about how all day long you gotta prove it to your boss, driving around in a cab, and all night you gotta go home and prove it to your wife," Springsteen said during an August 1978 concert in Largo, Md. "On weekends you gotta prove it to your kids. It never lets up, you know. ... Anyway, I wrote this song. Sometimes you gotta prove it all night."
Springsteen and company recorded "Prove It All Night" during September 1977 sessions at the Record Plant in New York City, initially using lyrics that subsequently appeared in "Something in the Night" before honing in to focus on a couple preparing to take a step forward in their relationship.
The sessions for Darkness on the Edge of Town were not easy, encumbered in part by lawsuits between Springsteen and his soon-to-be former manager-producer Mike Appel – and also by Springsteen's stated desire "to sound leaner and less grand than 'Born to Run,'" as he wrote in his 1998 lyrics book Songs.
"That sound wouldn't suit these songs or the people I was now writing up," Springsteen added, saluting engineer Chuck Plotkin for helping to achieve "a tighter, more modern mix."
Listen to Bruce Springsteen Perform 'Prove It All Night' in 1978
Sonics aside, Springsteen also said, "The songs were difficult to write. I remember spending hours trying to come up with a single verse. 'Badlands,' 'Prove It All Night' and 'Promised Land' all had a chorus but few lyrics. I was searching for a tone somewhere between Born to Run's spiritual hopefulness and '70s cynicism. ... I intentionally steered away from any hint of escapism and set my characters down in the middle of a community under siege. Weeks, even months went by before I had something that felt right."
As "Prove It All Night" came into its own onstage, the idea of a promotional single for radio was broached with a seven-minute and 45-second live take from Berkeley, Calif., on the A-side and the studio version on the other. Springsteen scuttled that plan, however, as well as suggestions for a live album to capitalize on the popularity of his concert performances.
The galvanizing 1978 arrangement of "Prove It All Night" was curiously left off the Live/1975-85 box set, but is readily available via the Darkness tour concert recordings in the Live Springsteen official "bootleg" series. He also played the arrangement during rare moments early during The River tour in 1980, and it surfaced occasionally during subsequent tours.
The version on 2001's Bruce Springsteen & the E Street Band: Live in New York City doesn't include the 1978 intro but is extended with a long guitar jam on the song's back end. In whatever form, "Prove It All Night" remained a staple of Springsteen's concert sets.
​​​​
Top 100 Live Albums
These are more than just concert souvenirs or stage documents from that awesome show you saw last summer.
Why Bruce Springsteen Called Killers Collaboration 'Cathartic'