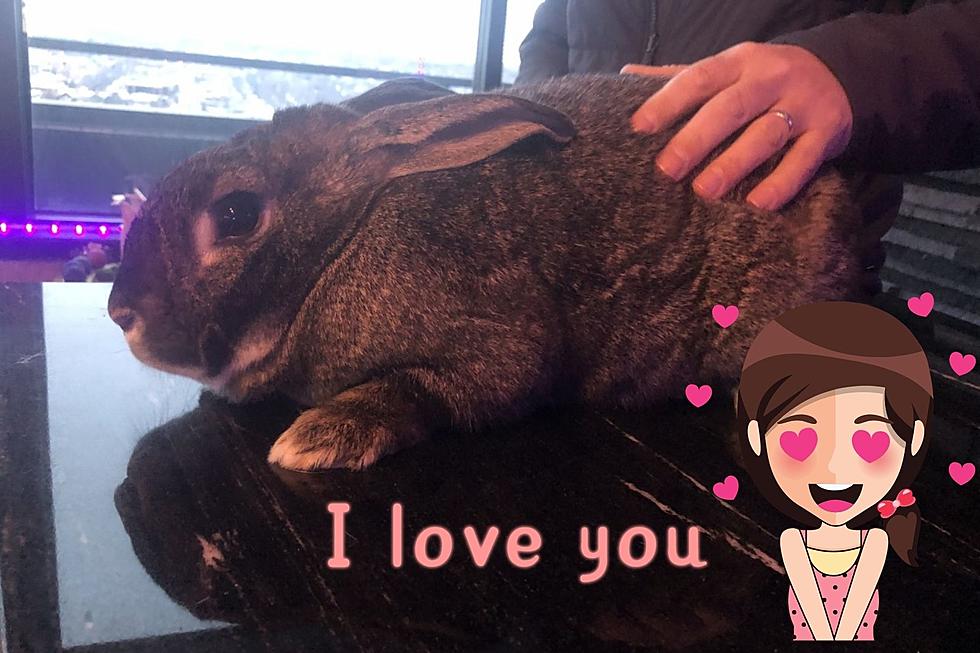 A Flemish Giant Rabbit Visits the Morning Mix 97.1 Studio
Credit: Nikki V.
Since we didn't have Wet Nose Wednesday today with YVAS, I thought I'd share what I learned from Jeff the Nature Guy from Zoo Montana.
He arrived bright and early to our radio stations high atop the 23rd floor of the Double Tree Hotel toting an animal creature with him. I joked saying, "There better not be cockroaches in there Jeff..."  
He smiled and said, "Never tell me what not to bring because I'll totally bring that critter next time."  
Well, if that's the case- do not ever bring a sloth to our station Jeff... hehe. 😋
I'm slightly obsessed with animals... as a child my imagination went wild and I pretended my stuffies were live animals. You could imagine I absolutely melted when he brought this critter with him. He cradled this giant, fluffy thing and when he turned around, it was a massive rabbit.  
In fact, this rabbit is called a Flemish Giant and his name is Walter.
Walter is 6 years old and is about 10 lbs. His ears were long and pointed, and his demeanor was calm. Jeff told me these particular rabbits can grow up to 30lbs, and those are the rabbits we see taking social media by storm. Breeders have them for sale, but these were originally bred for the meat. 
Jeff also told me that Walter loves to cuddle and enjoys interacting with humans. This was the calmest rabbit I've ever seen and reminded me of my rabbit I had growing up that my mom got me for my birthday. Literally brought a tear to my eye. Walter's partner who was also a Flemish Giant rabbit passed away recently, so Walter needs that human connection as he is lonely sometimes and welcomes cuddles. I was in heaven.   
Fun Facts I learned From Jeff the Nature Guy:
When a rabbit gets the "zoomies" it's actually called getting the "binkies"!  
When a rabbit gets the "binkies" they flip and twirl and do a little dance which means they're happy and content.  
A group of bunnies is called a fluffle. Saying it out loud is silly and awesome. I couldn't stop saying Fluffle all morning... it's fine.  
Rabbits eat their own poop because they receive the left over nutrients in their waste, and it's perfectly fine to do so for Rabbits.
I can't wait to see what Jeff the Nature Guy brings on the show next!
He mentioned a Lynx, a Sloth, but you never know if he'll show up with a cockroach. Yikes!