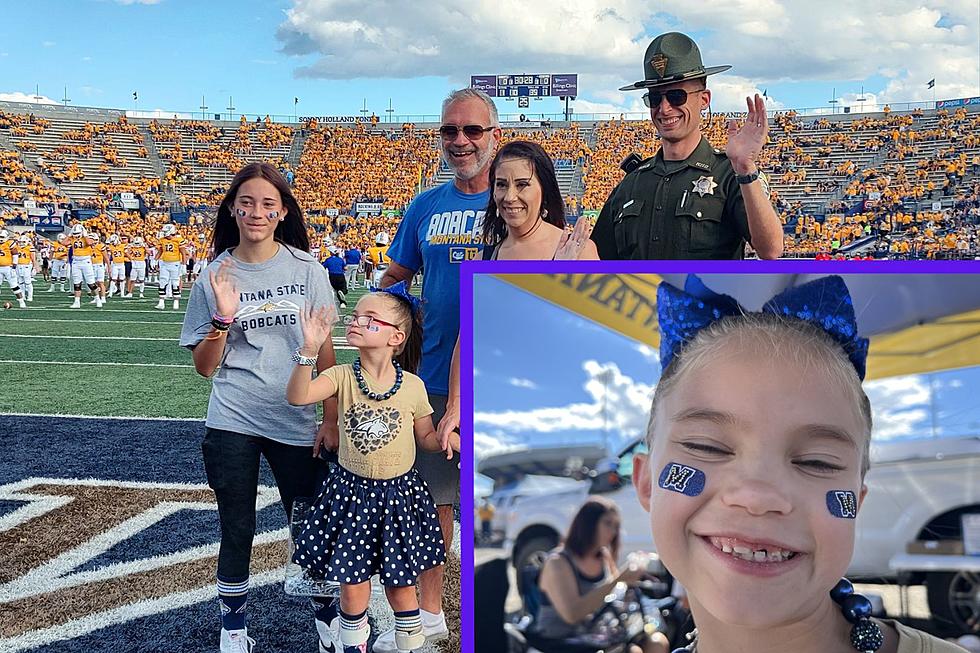 Montana Hope Project Kid from Laurel has Awesome Day with the Bobcats
Look, ma! We're on the Jumbotron. Credit Montana Hope Project/inset Michael Foth, TSM
Most of the stories I share with you guys are about interesting things around Billings, cool stuff in Montana, food (I write a lot about food 😁), fun events and unique happenings around town, etc. Today, I'll share a more personal story with a peek into my family life and a charity that is close to our hearts, the Montana Hope Project.
My daughter is a Montana Hope Project kid.
Each year, the Montana Hope Project gives amazing wishes to Montana kids who have challenges. Some may be physical, some are mental, and many are a combination of both. Every Hope Project kid shares a common trait of facing big difficulties that can take a huge toll on them and their families. If you have a kid with a disability, you know what I mean. Hadley's wish trip was to Florida, and it was an absolutely incredible experience.
You're in the Montana Hope Project family for life.
A neat thing about the Montana Hope Project is that long after the wish is granted, kids and their families stay involved. Our family gets to attend the twice-a-year weekend reunions at Fairmont Hot Springs, with food, lodging, and swimming all included. It's a relaxing and fun way to connect with other families who experience a lot of the same challenges we've faced.
Sometimes other cool experiences come up too. Like our road trip to Bozeman earlier this month for a Bobcats game. The weather was perfect and the stadium was sold out.
A generous donor gives up their seats.
We got a call from Montana Hope Project a couple of weeks earlier, that there were four tickets  - great seats! - available to the September 2nd game if we'd like to go. Heck yes, we would. We're usually lucky to make it to one game a year.
Tailgating before the game.
Our hosts were Sean and his wife. Sean is in law enforcement in northwestern Montana and has been involved with the Montana Hope Project for years. They grilled burgers and hot dogs before the game and were so nice to Hadley and our family.
Hats off to MSU staff.
Maddy Ouellette is a game day field coordinator and Bobcat Stadium and she kept us pointed in the right direction and we got to be on the field before the game and on the jumbo screen. She was awesome.
Lots of smiles.
Montana college football games are so much fun. We're clearly Bobcat fans, but the Hope Project does similar game days in Missoula.
Being on the field before the game was a highlight.
Watching the team warm up, the marching band taking the field, the presentation of the colors, and the MSU rodeo team horses galloping onto the turf were so much fun to see up close.
Everybody slept great that night.
Walking around in her leg braces all day is pretty fatiguing for Hadley and she was out like a light by the time we got back to the cozy little cabin we found on Airbnb. It was one of the few semi-affordable options in the Gallatin Valley that weekend and it served our needs perfectly. Coincidently, the cabin was located about a mile or so from where I grew up.
Thank you, Montana Hope Project.
It's humbling to accept unexpected nice things. Our family is one of just thousands in Montana that have kids with special needs and sometimes I feel guilty when I know there are children in our communities that have if "worse off" than we do. You can find out more about the Montana Hope Project HERE. 
Every Montana/Montana State Player in the NFL For 2023
Wondering where former Bobcat and Griz players are in the NFL? Here are all the players trying to make the NFL this preseason.