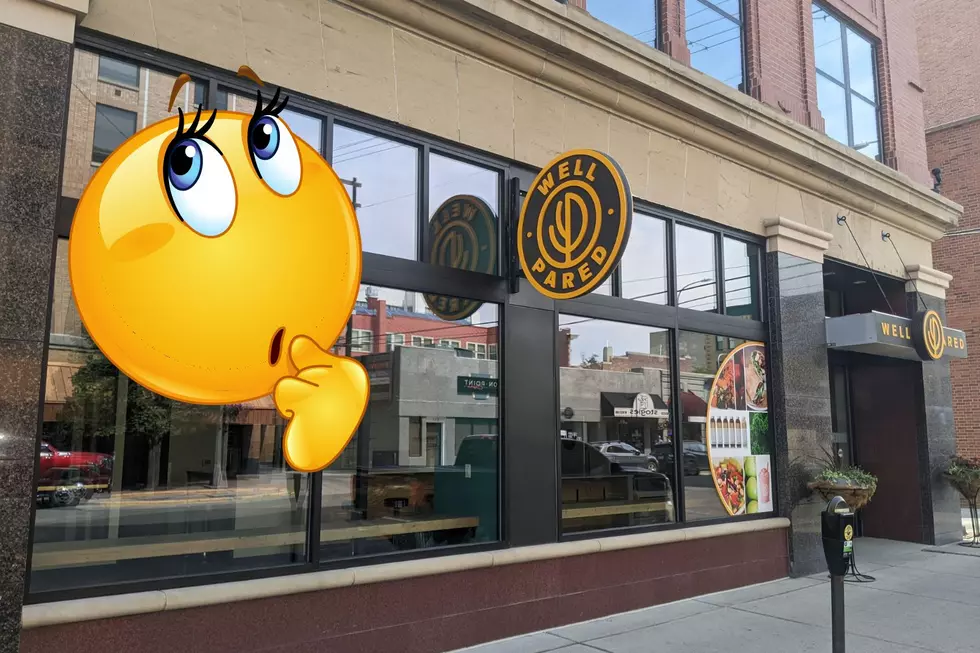 8 Shops We'd Love to See in Former Well Pared Spot in Billings
Photo by Michael Foth, Townsquare Media
Bummed that they closed.
Working downtown at the corner of 27th St and 1st Ave N, I walk by the now-empty former Well Pared location multiple times a week. The doors were quietly shuttered a few months ago and when I first noticed, I stopped to read the note on the door that thanked their customers for the support. The west end Well Pared remains open at 24th and Broadwater.
But what a great spot!
I hate to see any Billings business close, for whatever reason. This one really bummed me out, because it's located in arguably one of the best spots downtown. Sandwiched between two of Billings' nicest downtown hotels, you've got fun shops, bars, galleries, and restaurants in every direction.
It's in the best "walkable" area downtown, in my opinion.
If you don't come downtown very often, it's quite busy during the weekdays, with bankers and lawyers and professionals mingling with the rest of us on the sidewalks. I enjoy the hustle and bustle and it almost feels like a real city. Surveying my coworkers today, we came up with eight businesses that we feel would be awesome at 2710 1st Ave N.
A great pizzeria.
This was my top pick, simply because I love a really good pizza. It'd be great to have a place with slices to go at lunchtime, or if I wanted to grab a pie and bring it back to the office. I realize there are other restaurants that serve pizza, but options are limited at noon.
A 24-hour miniature CVS/Walgreens
Think about it... you've got the Northern Hotel on one side and the DoubleTree on the other. Guests would love to have a place they could walk over to grab a six-pack, some antacids, etc. Forgot your deodorant? No worries.
A Montana souvenir shop.
Yes, Aspinwall is right around the corner and they're awesome. But they sell mostly clothing. I'm envisioning more of a Wall Drug-style gift shop here. Hats and tees, for sure, but it would also carry those wacky (often tacky) oddities that you'll only find at gift shops like in Deadwood or Reno. Tourists eat that crap up.
An Apple Store
We're dreaming big on this one, but if they opened a boutique Apple store in this location, I'd probably be forced to make the switch from Android.
Downtown Billings' first cannabis store.
For reasons that seem to make very little sense, weed shops are not permitted to operate in Billings limits. That's why they're all located on the outskirts of town. But IF they ever rethink the current ordinance, this location screams fancy cannabis store.
A Froyo shop.
Remember when TCBY was the hottest thing in the world, like 30 years ago? It's time for frozen yogurt to make a big comeback.
Downtown Doggie Daycare
It seems like all of the doggy daycare options in Billings are on the west end. A downtown place for dogsitting is a brilliant idea. Need to spend four hours in line at the courthouse? No problem! Let your dog chill here for a bit.
Hookah/jazz bar.
I'm not 100% sure that Billings is big enough to support a hookah bar or a jazz club, but if I walked by on a Thursday night and the sweet sounds of a sax and a whiff of hookah were wafting into the sidewalk, I'd be really tempted to come in and check it out.
States with the most registered hunters
Stacker
analyzed data from the U.S. Fish and Wildlife Service to determine which states have the most registered hunters. Read on to see how your state ranks on Stacker's list.