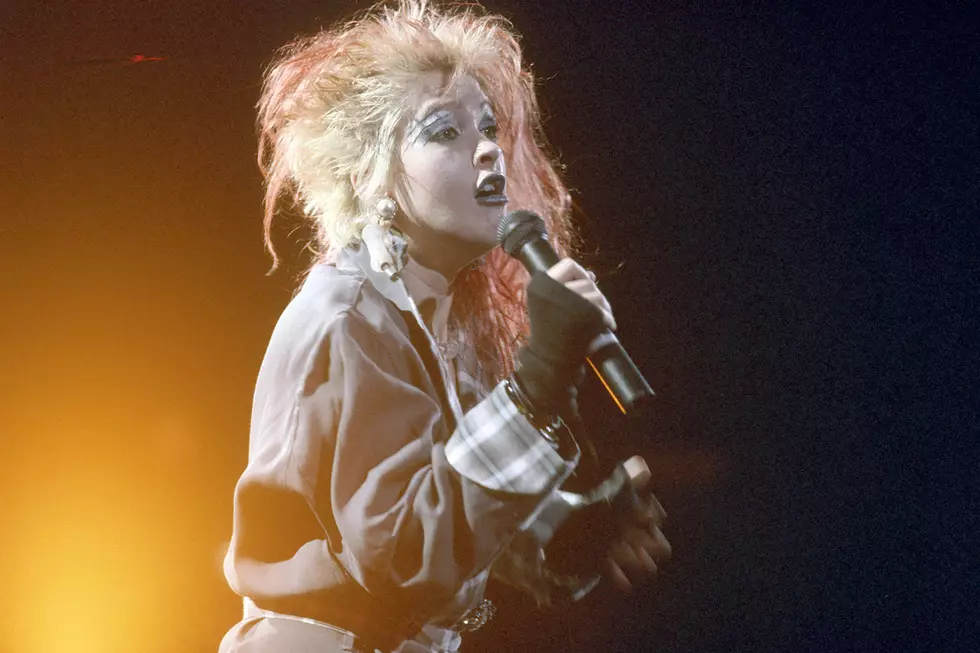 Five Reasons Cyndi Lauper Should Be in the Rock Hall of Fame
Michael Ochs Archives, Getty Images
The Rock & Roll Hall of Fame is making a concerted effort to nominate and induct more women — in particular, women who shaped '80s music.
The Go-Go's were honored in 2021, followed by Eurythmics and Pat Benatar in 2022. The trend should continue this year with the induction of Cyndi Lauper.
Born in 1953, Lauper grew up in New York City as a fan of Patsy Cline, the Beatles and Judy Garland. She eventually fronted a classic rock covers band, tackling songs by Led Zeppelin and Janis Joplin, before forming an original group called Blue Angel.
Although that was short-lived, Lauper came into her own with the release of her blockbuster 1983 solo debut. A landmark record, She's So Unusual included the feminist anthem "Girls Just Want to Have Fun," a dynamic cover of Prince's "When You Were Mine" and the self-pleasure-encouraging "She Bop." In all, She's So Unusual produced four Billboard Top 5 hits — making it the first debut album by a female artist to achieve this feat — while landing Lauper a Grammy Award for Best New Artist.
Lauper paired her musical achievements with a colorful look driven by creative fashions and hairstyles, as well as music videos that showed off her joie de vivre. At the 1984 MTV Video Music Awards, she even nabbed the first-ever Best Female Video trophy for "Girls Just Want to Have Fun." Lauper parlayed this success into more hits (including the ballad "True Colors" and movie soundtrack hit "The Goonies 'R' Good Enough"), as well as a groundbreaking (and some say hall of fame-worthy) wrestling career.
All of this set the stage for a long and successful career that's seen Lauper record and collaborate with multiple stars and up-and-coming acts, as well as branch out into writing, acting, theater and more. Above all, she's maintained a zest for life and a philanthropic spirit that sets her apart from her peers.
"Seeing my name on this year's ballot with so many talents that I admire means so much to me," Lauper said after being nominated. "It has been a lifetime privilege to reach so many different kinds of fans with a message of following your own path – and having fun along the way, too."
Here are five reasons Cyndi Lauper deserves to be in the Rock & Roll Hall of Fame.
She's a Hero to Misfits Everywhere
Lauper encourages anyone who feels like an outsider to embrace their authentic selves. Accordingly, she's been known to edit songs to better fit her inclusive, empowering vision. In 1984, Lauper told Rolling Stone she "changed the words" to the feminist anthem "Girls Just Want to Have Fun" to remove the sexism. "It was originally about how fortunate he was 'cause he was a guy around these girls that wanted to have 'fun' – with him – down there, of which we do not speak lest we go blind. I tore it apart."
She Can Sing Anything and Be Successful
Lauper is closely associated with '80s pop, but she has an incredible vocal range — four octaves, to be exact — which makes her much more versatile than a lot of other artists. Lauper began her career as lead singer in the retro-rock group Blue Angel before transitioning to a more straightforward pop career. Over time, she subsequently dabbled in soul ballads, jazz standards, reggae, disco and electronic music. Her covers album Memphis Blues stayed at No. 1 on the U.S. Billboard Top Blues chart for 13 weeks in 2010, and she later nodded to her love of Patsy Cline with 2016's Detour, an album of country covers. Lauper also honored her friend and occasional tour mate Cher in 2018 at the Kennedy Center Honors, singing a rocked-out version of the hit "If I Could Turn Back Time."
She Excels at Both Songwriting and Interpretation
She's So Unusual featured Lauper putting a colorful spin on songs written by other people, such as "All Through the Night" (Jules Shear), "Girls Just Want to Have Fun" (Robert Hazard) and "When You Were Mine" (Prince). This might have given people the incorrect impression Lauper was only an expert interpreter. In truth, she also co-wrote several of She's So Unusual hits ("Time After Time," "She Bop") and subsequently built a body of work that focused on increasingly sophisticated and meaningful songwriting. Billy Joel also praised her writing on their collaboration "Code of Silence," then reportedly wrote a letter urging Lauper receive a Rock Hall nod. "She is, I think, the only other co-writer I was ever able to work with because she did all the work," Joel told Howard Stern in 2021. "The only other writer I gave credit to on a collaboration was Ludwig van Beethoven." Appropriately, Lauper was inducted into the Songwriters Hall of Fame in 2015.
She Uses Her Musical Platform for World-Changing Activism
Lauper wrote songs discussing politics, the impact of the AIDS crisis and the scourge of racism on albums like 1993's Hat Full of Stars and 1996's Sisters of Avalon. Lauper has been an outspoken ally to and supporter of the LGBTQ community for decades. "Above the Clouds" was particularly meaningful, as it honored the life and memory of Matthew Shepard, a 21-year-old gay man beaten to death in 1998. She founded the True Colors tour, which raised money in part for the Human Rights Campaign, and also founded the nonprofit True Colors United, which focuses on addressing homelessness among LGBTQ youth. Her song "True Colors" is also an LGBTQ anthem. Lauper is a staunch supporter of abortion access and rights, founding the Girls Just Want To Have Fundamental Rights Fund and co-writing a song with country icon Mary Chapin Carpenter. Called "Sally's Pigeons," the tune details the heartbreaking true story of a friend of Lauper's who died from a back-alley abortion.
Her Career Is Eclectic and Far-Reaching
Despite her flamboyant outfits and demeanor, Lauper has had under-the-radar contributions to several watershed pop-culture moments. That's her warbling the theme song to the TV show Pee-wee's Playhouse and singing on The Wrestling Album, both under assumed names. Decades later, she branched out into musicals and theater, winning Tony and Grammy awards for producing and writing the songs in the Broadway hit Kinky Boots. As a musician, she started incorporating Appalachian dulcimer into live performances. On top of these musical accomplishments, she also won an Emmy Award for Outstanding Guest Actress in a Comedy Series for a stint on the '90s sitcom Mad About You.
137 Artists Not in the Rock and Roll Hall of Fame
Many have shared their thoughts on possible induction.