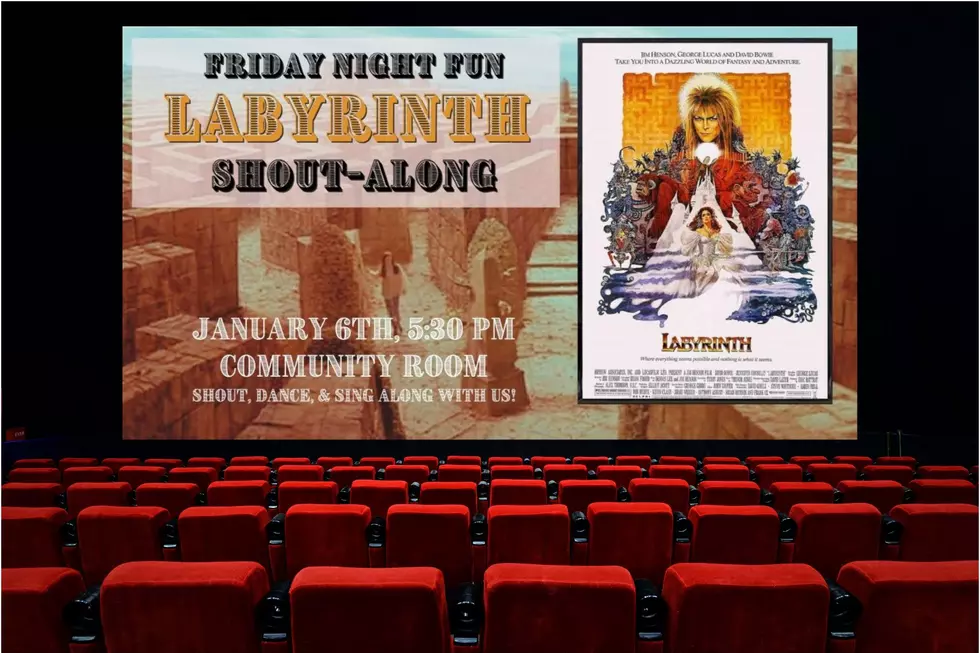 Billings Library Welcomes You In For First Movie Night of 2023
Credit: Canva / Billings Public Library
On Friday, January 6th at 5:30 pm, the community room at Billings Public Library will host Friday Night Fun: a Labyrinth Shout-Along. This interactive screening of Jim Henson's beloved movie is sure to be a hit with audiences of all ages. Come prepared to shout, dance, and sing along as Sarah embarks on her journey through the labyrinth to rescue her baby brother from the Goblin King, Jareth (played by David Bowie).

In addition to the film, Billings Public Library will provide popcorn and props to enhance your viewing experience. Costumes are encouraged, but all that is truly required is enthusiasm. This is a great opportunity to introduce young ones to this classic movie or to relive your childhood memories.
Labyrinth follows the story of Sarah (played by Jennifer Connelly), a young girl who makes a wish in frustration that her baby brother is to be taken away by goblins. As she navigates the trials and challenges of the labyrinth, Sarah must also confront the responsibilities and realities of growing up. Along the way, she meets a cast of quirky and lovable characters who help her on her quest.
Don't miss out on this exciting opportunity to experience Labyrinth in a new and interactive way. Join Billings Public Library on Friday, January 6th for Friday Night Fun: Labyrinth Shout-Along!
You can add the event to your calendar by clicking the button below.
Also, check out all of the upcoming events at your local library!
Best Places to Go Ice Fishing Near Billings, Montana
Take your buddies or your kids and head out for a classic Montana ice fishing adventure.